February 15th, 2016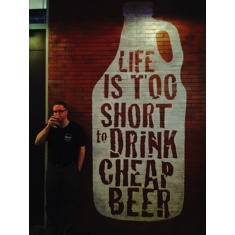 Ten years ago when I lived in Beijing there were not a lot of craft beer options in China, now there are some especially in the bigger cities. Shanghai being among the biggest cities and the most popular with foreigners has the most beer drinking options for those who want a little more than Tsingtao or Heineken.
Prior to moving to Shanghai I was introduced via WeChat to the brewmaster at Boxing Cat, Michael Jordan so when the time came for me to organize an official outing for coworkers there was little doubt it would be a brewery tour. I also organized Star Wars in IMAX 3D and will be organizing a Muay Thai kickboxing class, apparently I have a knack for organizing events people actually want to attend and of course sticking to a budget.
The official surveys are not completed, but informally a good time was had by all. The food at Boxing Cat is good, the beer at Boxing Cat is good, some people may have even learned something on the tour. I took a few photos of the beers I sampled but others took more social photos, I used one of me as the featured image taken just before our official group tour photo.
I did go to the gym today, I even did deadlifts, tomorrow is Spinning class, hopefully I can continue to lose weight but tonight was definitely the highlight of my February social calendar and likely the highlight of several of my coworkers.
I really recommend craft beer enthusiasts join Untappd but I still upload beer photos to Flickr, here are two Boxing Cat beer photos taken this evening:
When organizing an event or anything really, always under promise and over deliver.
Update I attended the 2017 Shanghai Craft Beer Festival which was organized by the folks at Boxing Cat.
This entry was originaly posted on , it was last edited on and is filed under: Asia and tagged: Beer, Boxing Cat, Shanghai.