February 8th, 2017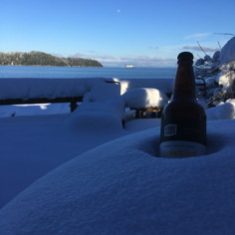 After two years in China I finally took a 'contract break' to visit my family in Canada, at first the weather was great, I had jet lag and took many sunrise photos in Deep Bay British Columbia, then just before a big family gathering #snowmageddon2017 hit Vancouver Island. This of course lead to more photos being taken and attendance at our gathering being sparser. We also cancelled our plans to go out for the Super Bowl.
I used my iPhone SE and my Panasonic GM1 to take many many photos in Deep Bay which I shared on Facebook, WeChat, Instagram, Twitter, Untappd, even Pinterest. Alas all my photography and social media sharing didn't result in #instafame, but I did learn how to use various camera modes including "LIVE" and panorama. Below are some of the better photos I took while on contract break.
The contrast between supernatural British Columbia and heavily polluted China was not lost on my WeChat buddies.
Update: Shortly after posting this we lost power as we got even more snow, after shovelling, I'll post a couple more pictures or at least one showing we still had over 45 cms of snow this morning.
We get some big storms here in Deep Bay British Columbia Canada, but rarely do we get so much snow. In 2019 we got over 30 cm again. If you have something to say or a link to share for BC storm photos you can leave it below, hopefully it escapes the spam filters.
This entry was originaly posted on , it was last edited on and is filed under: Canada and tagged: Deep Bay, Photography, Photos.