January 30th, 2006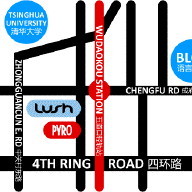 I'm not sure how many hours later it is, but I'm back at Lush in the exact same seat, sitting in front of my Mac.
Today I went to Walmart. I took pictures but they'll have to wait until my blog is working better. I think a WordPress version 2.0.1 isn't too far away, that might fix my permalink issues.
I bought a pair of Chinese jeans and on an impulse a fancy bottle of baiju in a wooden box with matching glasses. They had lots of these box sets for New Years, I looked at all of them and figured what the hell, even though I hate the stuff it is a good souvenir.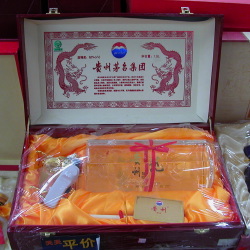 This is a picture of the Baiju I didn't buy. I just started taking pictures until I was told to stop. I think they didn't want the prices known. Anyway I figured what the hell and seriously started thinking about buying something, this was my second favourite bottle. It had a glass/plastic dragon floating inside the bottle in the Baiju. It was quite big and I don't know how it got in there.
This entry was originaly posted on , it was last edited on and is filed under: Asia and tagged: Baiju, Beijing, China.