February 19th, 2007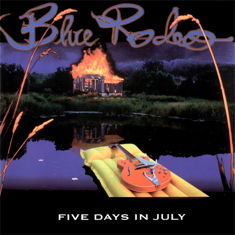 So while eating a late lunch I turn on the TV and flicking through come across what appears to be the Sadies on CMT. At first I didn't know who it was, just some guys in nudie suites playing in a barn, very Gram Parsons. Then I say those are the Good Brothers and that is Greg Keelor and there is Jim Cuddy and I realize they are singing a Blue Rodeo song.
It appears I've stumbled across some TV special entitled "Blue Rodeo and Friends". After the Sadies, Sarah Harmer sang my favourite Blue Rodeo song "Five Days in May". All of Pat Bailey's favourites on one stage. Other guests included members of Great Big Sea and then another Canadian songwriting luminary Ron Sexsmith. He sang "Bad Timing" with them.
Blue Rodeo are perhaps underappreciated in Canada at least by some who have come after them. The No Depression set down South often gives them and the Cowboy Junkies a lot of credit for reclaiming country rock from 70s radio stalwarts the Eagles and their ilk and for keeping artistry and integrity alive in the face of "New Country".
Here are a couple Blue Rodeo song lyrics:
After so long nobody's wrong.
After so long nobody's right.
---
Maybe soon there'll come a day,
When no more tears will fall.
If we each forgive a little bit,
And we both look back on it,
As just bad timing that's all.
I don't think this is the same performance but one from many years later with a slightly different group of "friends" on CBC and available on YouTube.
This entry was originaly posted on , it was last edited on and is filed under: The Arts and tagged: Blue Rodeo, Gram Parsons, Music, Ron Sexsmith, The Sadies.