July 30th, 2007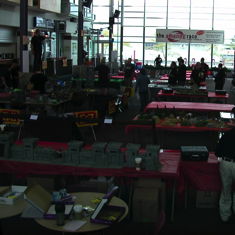 For better or for worse, I'm going to West Coast Mayhem, or at least I've paid for a ticket to West Coast Mayhem. I'm sure there are some people on some internet forum who would prefer I wasn't going to West Coast Mayhem. But I don't have a very high opinion of 40K internet forums.
I'm not sure what I'm going to do, or what I'm going to take. I'm soon going to be unemployed again though I may have two interviews this week. Both for technical positions, neither of which I actually saw the job description and applied for. It is a long way from a job interview to a job sometimes…
Additional Links
I promised Nick Daniels free press. He put up three websites they are all no longer online the tournament organizers site have a skeleton of a website. All the forum threads are gone too even if the forum itself is still online.
Event Summary
West Coast Mayhem is now over and people have been weighing in on the forums with their opinions. My West Coast Mayhem Battle Reports and Tournament Summary is still online.
Now it is over a decade later and all the accounts online but mine are gone. Few people maintain a website for over a decade and free hosting doesn't always stay free or online. Today everyone is on Facebook or Twitter or Instagram or all three but back in 2007 social media less dominated the Internet and the hobby. I'm once again looking for a new job and have not participated in a tournament or even the hobby in years but hopefully will again some day. If you have advice on doing well in a Warhammer 40,000 tournament you can leave it below.
This entry was originaly posted on , it was last edited on and is filed under: Gaming and tagged: 40K, Vancouver, Warhammer.