July 30th, 2007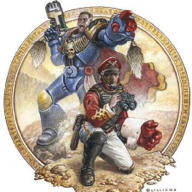 For better or for worse, I'm going to West Coast Mayhem, or at least I've paid for a ticket to West Coast Mayhem. I'm sure there are some people on some internet forum who would prefer I wasn't going to West Coast Mayhem. But I don't have a very high opinion of 40K internet forums.
I'm not sure what I'm going to do, or what I'm going to take. I'm soon going to be unemployed again though I may have two interviews this week. Both for technical positions, neither of which I actually saw the job description and applied for. It is a long way from a job interview to a job sometimes…
Additional Links
I promised Nick Daniels free press. He seems to have put up three websites now, plus I'm providing a link to the tournament organizers site, assuming the WiFi starts working again.
People who may participate
Event Summaries
West Coast Mayhem is now over and people have been weighing in on the forums with their opinions. I've already managed to piss one person off, but he'll get over it. There is a difference between someone saying something in passing you don't like and someone deliberately hurting you, damaging your reputation, and scarring you for life. Believe me I know.
This entry was originaly posted on , it was last edited on and is filed under: Gaming and tagged: 40K, Vancouver, Warhammer.