August 25th, 2007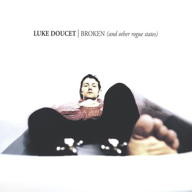 Tonight was the first of three concerts I recently bought tickets for. I don't know where I'm living next month, but I do have tickets to two events in September, in Vancouver. But first up was the Luke Doucet show at the Media Club.
I was the first to arrive at the venue. They weren't ready to let people in until over a half hour later. I stayed in line because I had a specific seat in mind I wanted to sit at. It was the same table I sat at when I saw Rick Mischel speak on March 17th 2005.
The opening act was Cameron Latimer he played solo on acoustic guitar with no pic. He had a lot of the same bad habits I have that my guitar teacher would like me to break. My favourite song of his set was "Last Night".
One thing I and the guy behind me in line noticed right away was the Gretsch White Falcon on stage. The drum kit also had a huge Gretsch kick drum. I wondered if Luke might have gotten sponsored by Gretsch, but I later learned it wasn't his regular drummer and Luke isn't as famous as Malcom Young or Stephan Stills two musicians with signature Gretsch guitars.
Luke's wife Melissa McClelland played next. She reminded me some of Gillian Welch, which would make Luke David Rawlings I guess. He joined her on stage after sneaking to the side and taking a seat on the floor. The Media Club is small and the stage reflects that. The guy I was sitting with had played this venue and they had six guys on stage. There was a bass amp on stage but no bass guitar, so tonight's band would be a 3 or 4 piece band.
I'd seen Luke play once or twice before so I noticed all this. Luke was sporting a full beard and a cowboy-esque hat looking very much like a blond Rick Danko I thought at the time. When he joined Melissa on stage he played a little parlor guitar. Everything I know about parlor guitars I learned from Rick Fines and Roy Rogers.
They concluded their set with a Tom Waits cover ("Gun St. Girl") which was pretty cool. Apparently it has been a regular feature of their shows for a while.
Before the final set there was another break. Our dream seats were problematic as people stood in front of us for much of the show. During this break I recognized a guy a the opposite side of the stage. I had told Rob, I think his name was Rob, that when I saw Luke/Veal play I remember Luke on guitar and an Asian guy on bass. Sure enough almost ten years later, Luke might be playing with the same bass player. Luke's music has changed a lot, it has a lot more country, more twang in it than it used to have.
The main set was well received. Eventually they did a cover of "Folsom Prison Blues" which medleyed into "I'm on fire" which surprisingly to me I knew most of the lyrics too. I couldn't even remember the original artist. Finally they ended their set with what must be the most famous Luke Doucet tune, the one I always sing and quote "Broken One". It is a really sad song, but now, live, it is revved up and done as more of an affirmation of life.
Of course there was an encore and after some thought and several song titles screamed from the audience, the band went into their loudest and most rockin' number of the night. It had the memorable chorus of "I hate your lipstick".
After that was finished and the house music was turned on I headed home. It was a pretty good show, worth the 15 bucks. Luke is good guitarist with fine taste in guitars. He even did a song about Rick Danko which made me wondered if the resemblance wasn't just my mind working overtime. I could make the obvious Gram Parsons reference, making Melissa Emmylou. But Gram never played guitar so well perhaps JJ Cale is more appropriate, he tours with a female vocalist and guitar player, whom he sometimes features.
Luke seems to be impressing a lot of people of late, he's been at it for a while so it is good to see him getting more success, check him out if you get a chance.
This entry was originaly posted on , it was last edited on and is filed under: The Arts and tagged: Concert, Gretsch, Luke Doucet, Milissa McClelland.