May 29th, 2009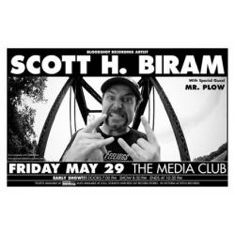 And Scott is still playing tonight at the Media Club on Cambie Street. Early show, get in, get crazy, get down, get up, and get gone.
He was also featured in this weeks Georgia Straight but I still can't even give away my spare ticket. I mean the Georgia Straight wasn't there at his last show and it was half the price and in the DTES. Now he's their feature interview for the week. The Georgia Straight likes his new album and gasp they think he might actually have talent and not just be some novelty act.
Egads, talent in the music industry, surely not…
I am not sure if I got any decent photos or video. I had a Blackberry then but even an iPhone did less well under low light back in 2009. Now in 2019 smart phone cameras are better alas I don't have job. I none-the-less got it into my head to update my blog and if possible all the old blog postings to make them more useful and improve their Quality. A lot of short and unfocussed posts were deleted. I'm not sure if it will help but I am running out of ideas and I wanted to keep busy.
If you have any ideas or thoughts on Scott's music you can leave them below.
This entry was originaly posted on , it was last edited on and is filed under: The Arts and tagged: Music, Scott H. Biram.