August 21st, 2009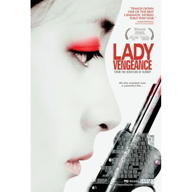 I'd like to say it was a joyous celebration of life, OK I will say it was a joyous celebration of life, no one else will. The film is also very very clever, cunning if you will, so cunning you can brush your teeth with it.
The film is called "Lady Vengeance" and was made in Korea. I live near a pretty good video store and I think it is run by the Vietnamese. So they have perhaps more Asian films than average. I've seen quite a few Chinese and Japanese films but no Korean films basically. The same goes for Korean novels.
I was actually saving all the Korean films I wanted to watch. I was supposed to watch them with my Korean tutor Sunny. Then she just disappeared, I guess she went back to Korea suddenly. She never even said goodbye…
Tonight was a long day, but a good day. So I decided to cap it off with a film and just chill on my couch after all the hard work. Not seeing anything in the top 100, I went to the foreign language film section and found two Korean movies, both by the same director. They are a part of a revenge trilogy. The same director has a new movie in theaters in Vancouver right now.
Cinephiles should check it out. Chocolate will probably be the first Thai film I add to my collection and this will likely be the first Korean film.
This entry was originaly posted on , it was last edited on and is filed under: The Arts and tagged: Cinema, Korea, 健美.