December 15th, 2010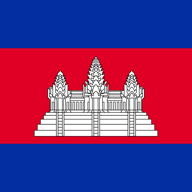 Well since online Internet experts are never wrong, I give you the top 10 photos I took while I was in Cambodia and have since uploaded to Flickr. Longtime loyal readers may have seen some of these, even more longtime loyal readers may remember a time when there was no Flickr and there was no WordPress. These photos are from that time, taken by me, before my MBA, with my old Nikon CoolPix 2500 camera.
I have a few other blog postings I've considered writing, but I've been reconsidering the whole blog your life, blog your way to a better career, blog or forever dwell in darkness school of thought. A lot of stuff I've blogged about, maybe I shouldn't have, maybe that should have been posted 'friends only' to Facebook. But just like the Internet and Muschamp.ca existed before Flickr and WordPress, it existed before Facebook too.
Then there is Twitter, every now and then someone follows me on Twitter and I wonder why? I looked at every tweet I'd ever made and most of them are probably re-tweets or forwarding articles. That is what I've basically decided the primary use is for my Twitter account. It is more professional and in some ways more local than my Facebook or this blog. A lot of the people I interact with on Facebook I don't see regularly, they live in Wales, or Korea, or gasp the United States of America. We swap stories and make jokes or at least try too. Of course some people are in my Facebook network, Twitter feed, and LinkedIn and Flickr too, this is pretty much Kris Krug. And before you ask yes he cross-posts most things. Other people I've been smart enough just to follow them in one or two places online
So what does this post have to do with Cambodia? Well I went to Cambodia and it is a very poor but very photogenic country. You can't control the weather or whether there will be a good sunrise or sunset and the place is only going to get more crowded and touristy, so enjoy these photos and some rehashed tales from when my life was a bit better. Also might I recommend a book that made me want to go to Cambodia in the first place, that and the architecture of course.
If you haven't guessed already there are a lot of bugs in Cambodia. There are also a lot of temples these are Hindu or Buddhist mostly, though they may have originally been devoted to the God-Kings of the Khmer. If you go to the capital of Cambodia, Phnom Penh, which I can't really recommend. You can see another side of Cambodia, one with prostitution, drug use, sex tourists, and documentation on the horrors perpetrated by the Khmer Rouge.
I spent five days or so in the national park that incorporates Angkor Wat, Angkor Thom and a host of other temples and palaces from when Cambodia was a regional power, rivaling Siam (modern day Thailand). The Angkor temple and city complex ruins are a UNESCO heritage site and one of the more impressive feats of human construction on the face of the planet.
There are quite a few UNESCO heritage sites now, not all of them are created equal, nor are they on the same scale or at the same state of preservation. Some are small and run down, others are so big and well known that their popularity is a problem. Angkor will reach that latter status someday soon I imagine. Which is why I went the old fashioned way, overland with a backpack.
While on the UNESCO website I decided to see how many of the officially recognized sites I had been to. They are broken down by country so if you haven't been to a country you haven't seen that site now have you? I often go off the beaten track for instance while I was in Kyoto I avoided the most popular tourist attractions. Kyoto I think has the most UNESCO heritage sites in the world, though I appear to be wrong.
It's funny what makes the list and doesn't. It is also odd that some things just get lumped together like all of Kyoto or all of Vienna but the Imperial Palace, ditto for Prague. Oh well the point of all this time spent looking at the list and linking to sites is I've seen a few and Angkor is among the most impressive ancient feats of construction. Himeji Castle is better preserved (re-constructed) and numerous places in Europe have Gothic or Neo-Gothic down pat, but few places in the world look like Angkor. There are a few other temples in Cambodia, Thailand, and even Indonesia and parts of Vietnam which have similar architecture.
Someday I'll get to do some traveling again, probably not backpacking though.
There are so many temples in places like Kyoto and Angkor that you can OD. That is why I recommend you get off the beaten path, go early in the morning if possible when the crowds are less or non-existent, go in the off season, go before you get too old to climb up to the top, or too fat like the American tourist "In Bruges".
I actually took a lot of great photos in Cambodia and I had a few stories too. I wrote emails back to my friends, remember this was pre-Blogging systems and pre-Facebook. I turned them into webpages eventually. The first one is about my overland journey, the second was funnier when I wrote it the first time, damn crappy Windows computers, it is still somewhat funny when I had to retype it.
I also put up an entire gallery of photos I took in Cambodia which I entitled Angkor Musk.
Update January 2019
I've actually spent the last four years living in Asia. I did some traveling I definitely visited some more UNESCO heritage sites, they add more every year, they are definitely not all created equal. Once again I am flying back to Canada and facing unemployment after being unable to find the job I want and need having passed all three CFA® exams. I liked Cambodia, I'd visit again, there are lots of places I'd like to travel for the first time but I need that good, high paying job I've long been promised while studying alone. I'd also like to no longer be alone, but things just don't seem to work out for me.
If you have comments or advice you can leave them below.
This entry was originaly posted on , it was last edited on and is filed under: Asia and tagged: Angkor Thom, Angkor Wat, Cambodia, Photos, Top 10.