March 24th, 2011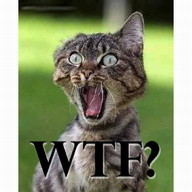 I read the Hao Hao Report.  There I said it.  I haven't subscribed to their RSS feed for a long time, I'm not an active user. I'm not an old China hand.  However I did live in the country, still know people who do live there, and I want to go back to visit. Heck I'm an alumni of Tsinghua University, I've got the Chinese New Year's Card to prove it.
So anyway I was looking through my RSS feeds and I clicked on a story that seemed interesting.  I wanted to read more so I ended up at nytimes.com, recently in the news for their attempt to put a paywall up just for Canadians.  I myself have poked fun at the New York Times on this very blog, they are a big target.
No I am not going to complain about the paywall.  Newspapers need revenue to stay in business, bloggers aren't always balanced and fair, not that newspapers are, but at least you know where to hurl the brick if you don't like something printed in the New York Times.  So anyway I'm reading the article in the New York Times on Censorship in China.  An article that mentions and links to: Twitter, Google, and Facebook.  I mean physically links to them in the article. So I'm enjoying the article and thinking how things have changed since I live in China.  When I lived in China there were things you weren't allowed to blog about, but I didn't feel as though my emails, texts, and phone calls were being monitored by the government. I was invited on exchange by a famous university, I felt pretty welcome in Wu Dao Kou and most places I traveled.
Update: Times have changed, the reason smartphones and a few apps in particular. The government is definitely monitoring everything you say online even in your private messages to friends in WeChat. None-the-less you must use WeChat is modern China, the vast majority of the population uses it daily and obsessively.
Anyway I'm halfway through the article or at least have read to the end of page one and I think some of my friends on Facebook, say people who went on exchange to China as well, or who live or work there now, they might be interested in this article so I look up and down the New York Times website for a Facebook Share or Like button or perhaps a Twitter one.  Finally I find a generic share button I click on it and low and behold no Facebook, no Twitter, no Google Buzz, but there is an ad.  I thought to myself is the New York Times owned by Fox?  As they expect me to share the article on MySpace,  LinkedIn makes a bit more sense, but no options to share via the major internet services actually written about in the article.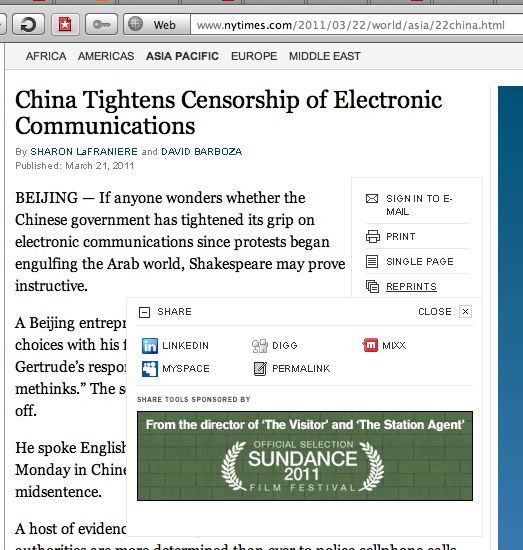 That my friends is dumb.  It is also hypocritical, they are writing on how the big bad Chinese government is censoring and blocking Google, Facebook, and Twitter and they themselves seem to be feuding with those various entities and unlike the rest of the Internet, the New York Times are making it harder for readers and potential clickers on advertisement to share stories with other readers and potential clickers on advertisements.
This is even more ironic as recently after reading an article, posted to Twitter by Alexandra Samuel, I changed how I had implemented sharing on Muskblog.  I had previously tried AddThis and ShareDaddy but now I use a pluging called Digg Digg.  The point?  The entire world is sharing information and searching for information online and probably the three biggest tools are Google, Twitter, and Facebook, that is why the Chinese government has targeted them, but the New York Times, paragon of journalism and free speech and accountability, is basically acting like a little child by refusing to play with those three sites.
Update January 2019
I started the year off with a major update to WordPress, at the moment I do not have any social sharing buttons because they slow my website down, especially in China. I do have the structured metadata and anyone on computer or phone in 2019 knows how to share and article, so the ubiquitous buttons are less necessary than they were before. I've also spent a lot of time trying to improve old posts as once again I am in need of a new job. I am even willing to work in China or I was for four years. You can leave comments and suggestions below.
This entry was originaly posted on , it was last edited on and is filed under: Asia and tagged: China, Social Media, World Wide Web.