September 22nd, 2013
Back in the day, ie the 90s when you redid your homepage it was a big deal. Now everyone and their dog is online and people don't even need to know HTML to have a 'home page'. I've been maintaining a homepage online since 1995. I've never been the biggest fan of JavaScript or anything that makes a page load slowly, however the Internet keeps changing. People have faster and faster connections, they expect images, they expect UI nice-ities, they expect to be able to share what they like on social networks, so in redesigning my homepage and blog I made heavy use of JavaScript, heavy use of social media, heavy use of structured meta data, and added plenty of large thumbnails.
My WordPress blog theme now incorporates featured images (thumbnails) and custom excerpts. I even include the featured image in my RSS feed so I can then display the image on my homepage. I went with 192 pixel wide thumbnails which is what Pinterest uses in their RSS feed. I liked the look of the bigger images and I liked the masonry effect achieved when everything is the same width or a multiple of the same width.
My homepage uses the Isotope JavaScript library on the masonry setting to layout the RSS feeds. Twitter famously does not support RSS feeds anymore instead you must fetch your tweets using their API and follow their display standards. Finally I do something special to show off my quotation of the day. I have a few more ideas and I tried other RSS feeds such as Flickr, but their 75 pixel thumbnails looked puny next to Pinterest's 192 pixel images.
The Isotope JavaScript doesn't work perfectly when I use it, yet my problems/issues seem to not affect the author's demo page. I wish it worked consistently in all browsers but I expect there will always be some old browsers that it troubles. The webpage should still function even with JavaScript turned off, it just won't look as good as I intended. Once again Opera seems to be the browser that displays my content the way I intended. Here are screenshots taken today of my homepage and this blog's index page.
Now if only I could convince someone to give me a job.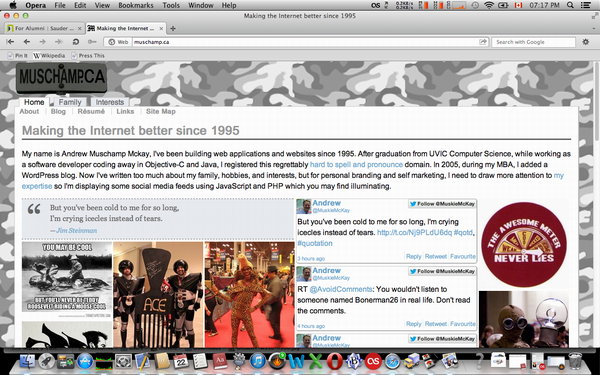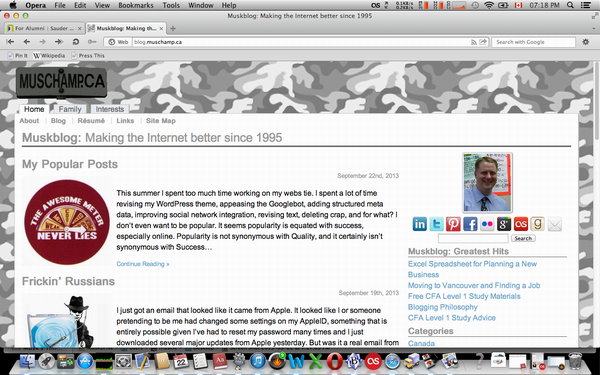 Update November 2014
A couple days ago Pinterest changed the size of the images in their RSS feed. They also changed their iOS app. Their images are now 236 pixels wide for the most part but I have seen some skinnier ones, perhaps when the original pinned image is less than 236 pixels. I'm not sure I want to replace all my featured images with larger ones, but using a 200+ pixel image allows for support of the Twitter Card with Large images which does look better in the Twitter iOS app. I really, really, really need a job, improving my homepage and blog has not resulted in a PM job, let alone a webdev job. I may end up teaching overseas the way things are going…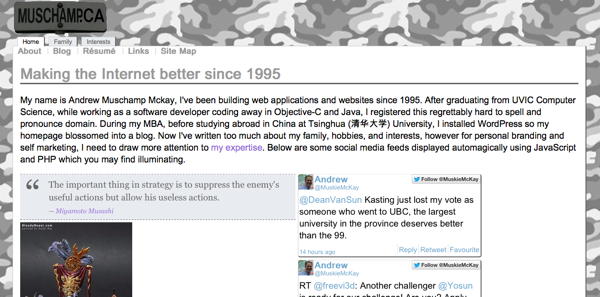 This entry was originaly posted on , it was last edited on and is filed under: Information Technology and tagged: HTML, JavaScript, Theme, WordPress.