December 15th, 2014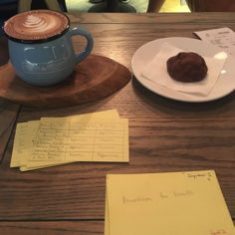 Another CFA® Level 1 exam has come and gone. I didn't write the most recent one, but eventually I passed the CFA Level 3 exam. I kept adding to my collection of physical flashcards and improving them, I also made them available online and through the miracle of web analytics here are the Top 10 most popular flash cards for November 2014.
Memorize more than formulas
People seem to use search engines to look up formulas they have forgotten. However, the two most popular flashcards are not formulae, obviously Portfolio Theory is being heavily tested every year and the BA II Plus is one of the official calculators, it does not have a single button for covariance, so you need to remember how to calculate it given the data you have.
Sample Size of One
Although this data comes from a single blog, it is a blog that has been online for a number of years. I have of course added Level 2 and Level 3 flashcards some of which have proven popular. The pass rate of the exams has even come up slightly in the last few years, yours truly managed to pass every exam. I can't say it has resulted in fame and fortune however. But if every year thousands of CFA Candidates consult my study materials that must say something about the quality and accuracy.
What is popular for Level 2 and Level 3?
If you thought Level 1 was difficult you're going to enjoy Level 2 less. I made 1202 flashcards while a CFA Candidate, 58.35% of them were for material tested on Level 2. Some people think Level 3 is even harder, I'm not sure it is, but I imagine it is the most competitive so I made hundreds more flashcards. In 2019 Level 2 Candidates seem to be worried about:
If you've made it all the way to the Level 3 exam you might want to review:
I of course have no idea what will be tested on future CFA exams they change every year so you should always consult the official curriculum but hundreds of CFA Candidates continue to read the flashcards I made and posted so at least some of your competitors are reviewing this material perhaps you should too. If you have a theory on what material will be tested you're welcome to leave it below as a comment. Do not leave spam.
This entry was originaly posted on , it was last edited on and is filed under: Finance and tagged: Analytics, CFA®, Exam, Flashcards, Top 10.