August 22nd, 2018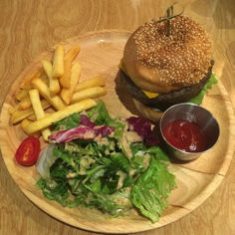 I've lived in Shanghai a long time, I've eaten my share of burgers. I also know how to BarBQ a mean burger. I know what I like. Despite all this I travelled around Shanghai trying a bunch more burger joints, stands, and restaurants that coworkers or experts recommended but none of them will become my regular or goto burger.
The experts who are paid to write about food will probably tell you to go to Bistro or Beef & Liberty or some steakhouse in an upscale mall or hotel but my favourite burger places are close to my apartment and easily accessible from the metro. I've already written exhaustively on beer and coffee, so if you guessed I like Boxing Cat for a burger you'd be right.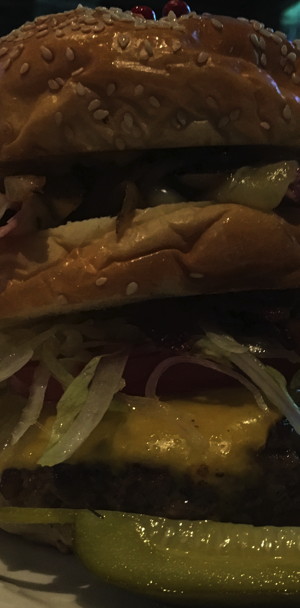 Fat Cow may be the most popular burger in town especially when it is 2 for 1 night. It is certainly better than Fatburger which I don't even think is as good as Carl's Jr. Coworkers recommend Grinder Burger and Charlie's. I liked the latter better than the former. Many bars have burgers I've had plenty including Cages and The Brew's which some website had ranked as one of the city's best, I may have a picture of it, but I don't think it made it to Instagram.
The burger on the right I actually got at Cages it was a doozy. I never used to take pictures of my food and post them to the Internet, but pressure is high in China to update WeChat and prove you have a social life. I'm not looking forward to sorting through photos again but I set myself a challenge to keep busy while I wait for my CFA Level 3 exam score by writing four exhaustive blog posts. I'm declaring my last burger eaten as far as research goes and although I may not get this published for a day or two, I plan to move on to ramen which you'd think would be more abundant in high quality in Shanghai than it actually is.
Several burger joints have closed while I've lived here either before or after I tried them. Several bars and restaurants popular with expats and tourists I do not care for. Eating out more and drinking even more beer and coffee has not been healthy. I bought expensive new cross trainers during all this and maybe my knee is healed enough to train a little more frequently and with higher intensity. I'm not sure my mind will ever recover from some of the things it has been put through.
I never made tasting notes, if it wasn't for obsessed people on WeChat I wouldn't have so many photos. You should look over the pictures get a second opinion and then try out some of these burgers for yourself. Often they'll use imported beef from Australia and some more upscale chains will put more exotic ingredients on the burger but I generally go for the cheeseburger but I'll often pay extra for bacon too if that is an option.
Google is of course blocked as are Flickr and Instagram in China but you can use Bing or I guess Baidu or some app to find recommendations or conduct further research. I looked at many articles, I linked to a few. Shanghai has food bloggers. It also is such a large city that travel companies, airlines, even mainstream media writes about the food scene here. None of my posts have gone viral. I think I need to update my website or webhost to support HTTPS but I'm just not obsessed with popularity. I think this blog will become more popular again in a month or a year and when it does these long detailed posts will find a new audience.
Many articles or listicles written on subjects like this are less than authentic and become outdated quickly. For instance I never got to try Shanghai's Ramen Burger. As I've said before if I have to recommend a food blogger I'd recommend Sugared & Spiced. Two more that seem to do a good job are That Shanghai Kid and Shanghai Girl Eats. They are perhaps a bit "foofoo" for the burger and a beer crowd, but at least they don't seem too spammy and have been online a while. Beware any article touting the latest greatest restaurant, I assure you they come and go quickly in Shanghai. Vancouver even has a website devoted to it's restaurant graveyard now.
I think that is enough words. You can leave a comment below telling me how I forgot Al's Diner or some other favourite of yours. I must now sort through Instagram, Flickr and the app formerly known as iPhoto to find the best burger pictures I've taken in Shanghai.
If you're thinking that is a nice modest collection of burger photos you got there on Instagram you have to realize that not everyone takes a picture of everything they eat and posts it immediately to Instagram especially in China because it is blocked, it is much easier and more common to post to WeChat. There is no clever or quick way to go through years of WeChat moments on your phone, so instead I will go through years of photos on my MacBook Pro and then selectively upload popular or at least photogenic burgers to the Internet, quite possibly to Flickr.
I definitely did a better job documenting beers and photographing coffee, but I had more burger photos than I expected plus I've continued my exhaustive ramen research. Based on photos and metadata I was able to identify all the burgers, it helps I often got a beer, identifying all the ramen will be tough, damn you Asahi! The advantage to uploading to Flickr is it preserves the location data, with that you could perhaps navigate to an establishment, but double check the place is still open. If you can't get Flickr or Instagram to work from inside China then you'll just have to be happy with the photos that do load and the links which hopefully work.
These photo heavy posts especially the default Instagram HTML code really messes with WordPress, yet another reason I prefer Flickr. But if you want to be a social media influencer you must be on the 'Gram and of course engage in hashtag spam. WordPress's new editor makes inserting some images hard and some images easier. Social media and image heavy posts still are problematic however. If you have a burger recommendation in Shanghai you can leave a comment below.
This entry was originaly posted on , it was last edited on and is filed under: Asia and tagged: Burgers, China, Photos, Restaurants, Shanghai.