September 5th, 2021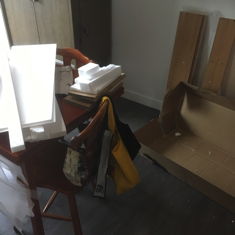 As alluded to in a previous blog posts, I recently moved into a new (to me) condo in Calgary's Beltline. As part of my master plan I decided to buy a new bigger piece of flat-pack furniture to replace several IKEA shelves to store my CDs, DVDs, and Blu-rays. After carefully selecting one for the height, when it arrived from Amazon it turned out to be a lot of work to assemble so that it wouldn't just fall apart when moved.
The actual shelving unit I bought was the Atlantic Oskar 1080 Media Wall Unit. And yes I will be leaving an unfavourable review on Amazon. I've built a lot of flat-pack furniture and after building this shelving unit I have newfound respect for IKEA.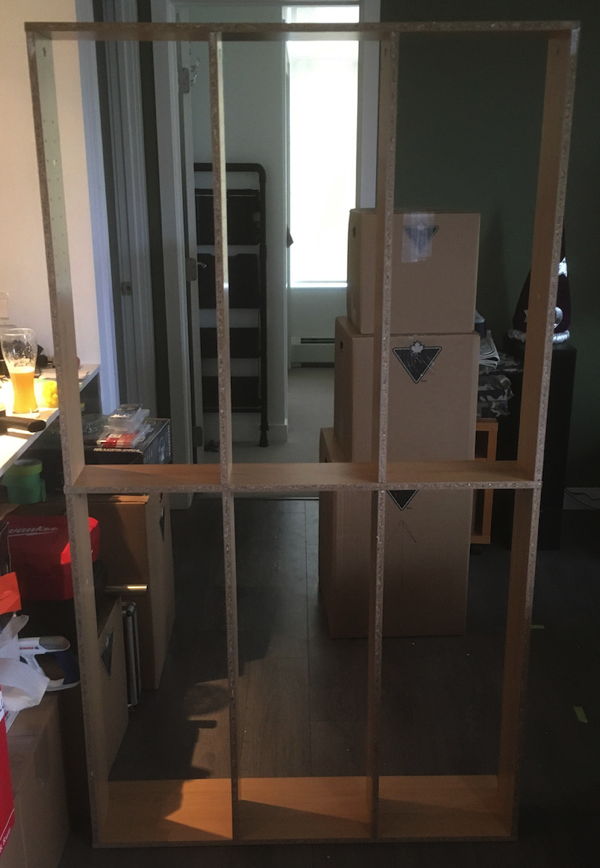 I followed the Instructions
Before anyone writes an angry comment I did follow the instructions. In fact it was Step 8 that caused the shelf to come apart in the middle. Step 8 says:
Place unit face down. Center panels (M) & (N) on back of unit. Fasten panels (M) & (N) to unit with nails (S).

Step 8
This shelving unit is basically two portions connected together by a combination of dowels, screws, and fasteners. The dowels are not glued. If I did it all over I would glue the dowels. The screws did not come unscrewed, the dowels were not very tight and the four fasteners, the cam lock nuts or cam screws, and the little plastic bits they were screwed into came loose. Hammering on or near the join did not help, but even gravity working against the join seemed to be enough to cause a failure if you followed the instructions.
How did I fix my flat-pack furniture?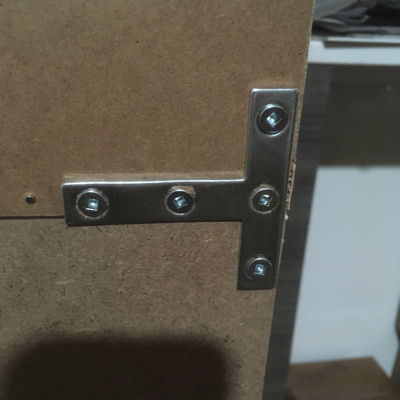 Well the first thing I did was put it back together and try hammering it while on one side rather than lying facedown, but then putting it back upright it just came apart again. So once again I recommend you glue the dowels and wooden pieces together. I decided not only to glue it together but to buy extra fasteners and try to strengthen this obvious weak spot.
I ended up making multiple trips to CanadianTire. Not only did I start using glue when repairing it, I added pads to prevent scratching my floors and metal braces to the corners and weak middle joint. I then covered those metal braces with anti-scratch pads. I also let the glue dry overnight while the shelf was in the proper upright position.
The shelves are skinny
One of the reasons I chose this unit was it was tall, another reason was it would stick out very little from the wall. It has a wider base but they still advise, as do I, screwing it to the wall, it is a lot more solid once anchored. The shelfing unit should have had long pieces on the outside, but another annoyance is how skinny the shelves are. It is designed for CDs, DVDs, and Blu-rays but the shelves are 5.25″ deep, which I thought would be sufficient but the IKEA ones are generally deeper. As a result your movies will stick out over the edge, I'm not sure if that is clear in the picture below.
Decided to use my old IKEA shelves too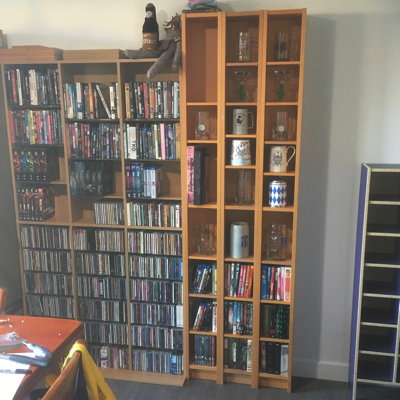 Maybe every DVD, CD, and Blu-ray I own would fit in this new shelf, but I doubt it. But since I didn't buy an even wider unit, preferring to go tall, I ended up using some of my old IKEA shelves. These are called GNEDBY and are still made, my old plan was to keep buying more of them, but I thought one big shelf would be more solid than several tall skinny shelves. In this case I was wrong, because the IKEA units have long solid pieces on the outside and once mounted to the wall do not move.

If I had to do it all over again, I would have gone with built in shelves. That is what I will do next time I move. I didn't want to mount any shelves permanently in my condo because not everyone still has CDs, DVDs, and Blu-rays. I made the same decision in my second bedroom. I did not not get a Murphy Bed or a built-in desk either. In fact I still haven't gotten a new desk. I decided to slow down my spending and to finish this blog post before I order yet more flat-pack furniture.
Next I will buy and assemble a desk
That's right, I have not learned my lesson. I definitely appreciate solid furniture and bought two new pieces from local furniture stores, but I've found a desk online that looks like it will fit very well in my second bedroom. It is made by Tribesigns and possibly some other companies. It also has a metal frame like the now twenty year old IKEA desk I plan to replace. I actually performed another IKEA hack on part of this desk when I moved.
So if you have any thoughts on the merits of Atlantic flat-pack furniture versus IKEA furniture or you still think I assembled the shelf wrong you can leave a comment below.
This entry was originaly posted on , it was last edited on and is filed under: The Good, The Bad, & The Ugly and tagged: Amazon, Home Improvement, IKEA.