November 6th, 2005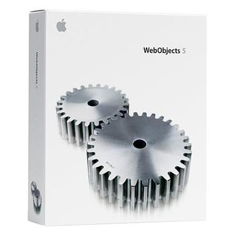 I still haven't gotten my autographed copy of the first one…
Their first book, Practical WebObjects was well received by the WebObjects community and the greater Java/Web Application Development community. I think they even thanked me in the credits, for what I don't know. I worked with them while at Global Village Consulting. In fact their new proposed book, may well be based partly off Chuck's internal WebObjects introduction course.
It is hard to find WebObjects programmers
You can find people who know Java or who know SQL, or who know HTML/DHTML/JavaScript/CSS/Web 2.0 even, but finding WebObjects developers can be tough, hopefully their books will make it easier for people to get up to speed with WebObjects. Maybe I'm wasting my WebObjects skills while doing my MBA, every now and then someone will come to my resume while doing a search for say "WebObjects Developer Vancouver" or even "WebObjects Developer Calgary" or some other combination, possibly throwing in "resume" might help in Google, the results are always changing.
Studying Rather than Coding
I went to China to study and due to both our busy schedules I haven't seen either Chuck or Sacha since before I went to Japan. I'm thinking I won't be getting my free book. I once tried to look into the now open sourced GVC.SiteMaker, but due to a less than stellar internet connection in Prince George I never got very far. I still don't think I've downloaded Ant. Now I have priorities and what little time I have to devote to web development goes into my blog.
Updating Old Blog Posts
A lot of time has passed, but I did communicate with Chuck the other day, he's now at Apple. I of course am unemployed an looking for a job so I recommend you view my resume. I never went back to WebObjects but I did write more Objective-C in my spare time. I also wrote too much PHP and VBA and even had to learn ColdFusion for a job once. Once again I'm updating old blog posts to try and leverage this blog more in my career and job search. If you have any thoughts you can leave them below.
This entry was originaly posted on , it was last edited on and is filed under: Information Technology and tagged: Apple, Java, Objective-C, Software Development, WebObjects.