May 31st, 2006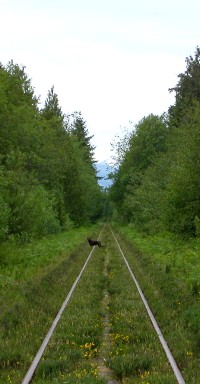 Well after walking to Bowser and back on Monday and our escapades with the abandoned half Pitbull, today Huuna and I set out on foot for my Nan's house.
We tried this last summer but had to give up due to a torrential downpour. I think it is about half again as far as to Bowser and back which we've walked several times. However we do it along the train tracks which complicates things. Huuna likes it because she can play in the ditch, check out trails, even chase any wildlife we encounter. I like it because it is safer than walking along the highway, Huuna can be off leash. The problem is you are walking along railway ties, loose rock, and gravel. It isn't a big problem for Huuna on all fours but it can be hard on my feet and ankles.
Besides the two trains and the odd car crossing the tracks we never saw many people or wildlife. Huuna got to chase one deer and we ran into a few other dogs of people whose backyards are up against the railway right-away. We never had much rain but the trestles gave us pause.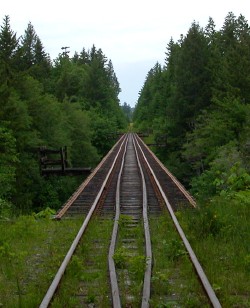 My sister was worried about me crossing the railroad trestles but it was actually Huuna who started shaking. She was alright on the short small ones she scrambled across those no problem. But the last three, especially the one over Tsable River which was really long and really high wasn't enjoyable. Huuna got about two thirds of the way across and then kinda froze up. I had to walk around her because I thought she might come when I got acrossed. This seemed to work. I may be fat enough not to fit in the gaps between the ties but you never know. Huuna on all fours should have been safer, the big fear is pitching over sideways or hurting yourself and getting stuck.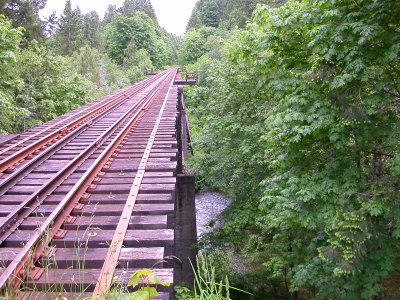 The problem walking across a railroad trestle is you have to look down to see where to step but you can also see through the tracks all the way to the bottom. There was definitely some vertigo, but there was no other way across short of backtracking or trying to get down to the river itself.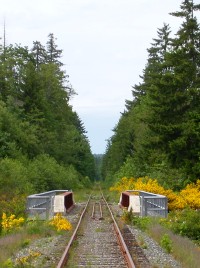 We never made it all the way to my Nan's place in Union Bay. I made the executive decision to stop at Buckley Bay, not because we didn't want to cross another trestle, but because at Buckley Bay there is a Subway restaurant and a liquor store. I had yet to eat lunch and we had been walking for over four hours. My Nan came and got us in her car, we had already walked the distance from her house to Buckley Bay before.
It is also my sister's birthday today, her present is me looking after her dog yet again. This was also the day of the graduation ceremony for my Sauder MBA. I did not attend for obvious reasons. And certain blog posts remain online to remind other people and myself of all the things I was forced to go through.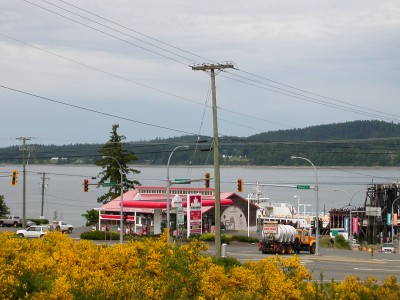 This entry was originaly posted on , it was last edited on and is filed under: The Good, The Bad, & The Ugly and tagged: Deep Bay, Union Bay, Vancouver Island.