July 29th, 2009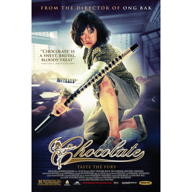 I really do like "Chocolate". And I was also quite pleased when I decided to rent the movie of the same name. It is from Thailand, made by a lot of the same team that brought the world Ong-bak and Tom Yum Goong. But rather than staring Tony Jaa the director and the rest of the team found a young female who they trained for two years, then spent a further two years filming Chocolate.
They crafted the movie around their new star Yanin "Jeeja" Vismistananda. She plays a young autistic girl who learns martial arts by watching boys train at a school next door as well as learning from movies and video games. This seems a bit far fetched, but the whole elephant protector angle… Lets just say I watched "The Protector" almost back to back and I like Chocolate.
Tony Jaa pulls off some amazing stuff, but seeing it done by a young girl, it is probably even more unlikely she could dispatch an entire gang of thugs single handily, but it looks cool. She is very flexible and very quick and even smaller than Jaa so she fits in some tight spaces. It definitely pays homage to Jackie Chan and Bruce Lee, but even more amazing than the star is the stunt team. There are some falls that I'm not sure you could legally do in North America, people really get kicked in the face in Panna Rittikrai's stunt team.
The final fight on the side of building in Bangkok, note the Skytrain twin, has dudes even the arch-villain getting kicked, punched, or thrown off the building, bouncing off signs and ledges until finally crashing into the sidewalk up to four floors below. They wear some padding under their clothes and likely replaced the sidewalk with some softer material than asphalt, but still several people went to the hospital while filming the final fight scene.
So if you like martial arts films, check out Chocolate. Crouching Tiger, Hidden Dragon with Michelle Yeoh is good but she had years of training and they used wires. The team of Prachya Pinkaew and Panna Rittikrai and the rest of their crew seem to want to push the envelope as to what can be done without wires, without blue screen. I hope Jeeja learns English well and gets the chance to gain world wide fame and acclaim.
I seem to watch a lot of Asian cinema and Chocolate may be the first Thai film I add to my permanent collection.
I ended up living in China again. I bought a lot of almost certainly "pirated" DVDs but I did not keep them all. I gave away many and had to leave some behind as the post office decided I couldn't mail the still in boxes ones. I ended up saving a couple Asian films that I've long admired "Hanabi" and "I saw the devil". I think I brought home more one my one visit home. I'm still waiting for that new job I was promised all those years ago when I started the CFA® program.
If you have any Asian movie recommendations or job finding advice you can leave it below. I managed to find the trailers on YouTube, it is a lot easier to be a cinephile nowadays I guess but I remember seeing "Hanabi" when it came out at Cinecenta.
This entry was originaly posted on , it was last edited on and is filed under: The Arts and tagged: Cinema, Martial Arts, Thailand, 健美.