March 12th, 2010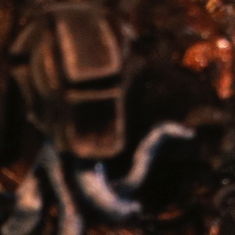 It has been a long time since I finished any models so as I could put them in my display case. These four will be going in once the sealant dries. They'll also shortly appear on a tabletop, which is perhaps even more rare. I plan to assemble and prime three more models and use them as testers mostly. I'll be focusing on my terrain project.
It took too long to finish these models, they should have been finished on the weekend, tonight I forced myself to just shut up and paint. I always spend too much time on finicky details. These four didn't come out super great, certainly not my best work. I did try some new paints and techniques, but that isn't the reason for the substandard work. Partly it was being out of practice, partly it was trying to take some short cuts. They'll do.
I got quite a few things on my painting table, but I'm going to clear most everything off and start building one foot by one foot terrain tiles, 24 of them.
I again used my iPhone to take the pictures of the models. I shoved it right in close and balanced it on the table. They're on Flickr so you look at them in higher res. The paints used were GW (lots of old pots), Foundry, and Vallejo. I even used some Ral Partha paint and some weathering powder and washes from these guys. Still haven't gotten weathering powder down and I'll need to test the washes more.
I eventually started a miniature painting blog, but there is still gaming content on Muskblog though more and more old content is removed in an effort to be more optimal or at lease more professional. If you have any thoughts you can leave them below.
This entry was originaly posted on , it was last edited on and is filed under: Gaming and tagged: 40K, Chaos Space Marines, Miniature Painting.