October 18th, 2011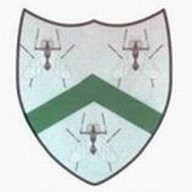 I've spent much of the last 24 hours entering Muschamp ancestors into Reunion 9 from "Northumberland Families Volume One" augmented by other sources. My biggest contribution is filling out the Emerson Muschamp portion of the family tree found on page 49. I also have some notes on other Muschamps who were born in the 1900s.
There are a couple of pivotal figures, most importantly John Muschamp of Newham, later of Ouston. It is thought by the author W. Percy Hedley that this is the same John Muschamp that was apprenticed to sir George Selby, boothman on February 1st in either 1612 or 1613. Presumably there aren't a lot of John Muschamps living at that time. Allowing that assumption it is possible to trace a direct line back to William Muscamp of Barmoor who died in July of 1479. I believe his will exists.

I've created two graphics showing what that looks like, then reduced them down to thumbnails for this blog post. 

There is a sixty year gap where there is no mentions of any Muschamps in Northumberland. However Barmoor Castle was in the family from at least 1341. The head of the family lived there. It is possible that no Muschamps reached the age of majority or whatever and a series of guardians or widows dwelt there during the gap. It is also possible that there just wasn't a very remarkable Muschamp in that period of time or that there aren't any records that survive.
There exists another Muschamp family tree ending at John Muscamp of Barmoor who was killed in 1381, that can be traced back to the first Robert de Muscamp baron of Wooler he and/or his father (Roger) appears to have fought with William the Conquer at the Battle of Hastings in 1066.
There is information supporting this online all likely tracing from the original sources used to compile "Northumberland Families Volume One".  I will try to find out more about John and Muschamps living in England between 1381 and 1479, there must have been some as they had kids whose ancestors live till this day. But I will also be researching Irish and Scottish McKays as well as Dougans who settled in the Cowichan Valley from Northern Ireland.
This entry was originaly posted on , it was last edited on and is filed under: Canada and tagged: Barmoor Castle, Battle of Hastings, Genealogy, Muschamp, Northumberland.