May 22nd, 2012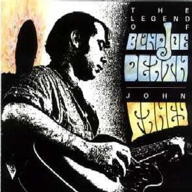 Blind Joe Death was the name John Fahey recorded his earliest recordings under. Nowadays many musicians use pseudonyms, but in 1959 pretending you were something or someone else while self releasing an album was near unheard of. In addition to self releasing his first album in an extremely limited pressing of only 100 copies. John didn't go about selling his music the way the rest of record industry did.
Legend has it John went around to local thrift shops and slipped his new record of folk and blues music in with old used records of real folk and blues musicians. He wanted people to wonder who was Blind Joe Death and how many records did he record? Now any fool can adopt a pseudonym like Fussbett Sanitario, and they can be unmasked using Google. But in the early 60s when country and blues and folk were merging with popular rock music to give the world folk rock or country rock and bands like Canned Heat.
Discovering New Music
Before, people had to listen to the radio, or read indie magazines, or haunt record stores to find new, and new to you music. I sometimes think the Internet has taken some of the wonder out of the world, though it is nice that you can just search YouTube to find a clip of the legendary Blind Joe Death, aka John Fahey. His guitar playing definitely influenced mine subconsciously.
I miss flipping through collections
When I was a kid I had a record player, that record player is still in my mom's basement and I still have those old 45s my babysitter gave me, ala Almost Famous. I also used to haunt comic book shops and used book stores, going through the racks was a rite of passage for a collector, now you just go to Google or Amazon when you want to find some obscure title.
Here is a Canned Heat clip too as I always hear their music in some TV advertisement while my mom is watching TV downstairs.
That worked well, I think I've got a new way to include videos in a WordPress blog. Oh and LA just scored in overtime. Good to see some Orange amps, not sure if this clip is from after Alan "Blind Owl" Wilson's death? Nope he appears far left after the guitar solo. Alan was a great guitarist in addition to being more famous on the harmonica.
If you have any thoughts on music, marketing, or discovery you can leave a comment below.
This entry was originaly posted on , it was last edited on and is filed under: The Arts and tagged: Canned Heat, Guitar, John Fahey, Self Marketing, The Blues.