March 7th, 2013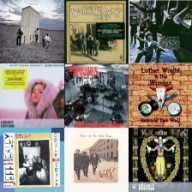 I keep trying to improve my various web mashups as APIs change and I pick up a new trick or two. Alas in 2019 I think many of the APIs I was using have become much more restrictive. One idea I had was to decrease the number of albums from every CD I own to say one hundred. I thought this would make the code run better as a lot of effort is spent trying to find information about obscure albums. Even my top 100 albums includes some unusual choices.
My Methodology
In selecting these 100 albums I relied on my memory, which albums did I listen to a lot when I was younger? I also looked at which CDs I owned which I'd previously owned on cassette tape. I also consulted iTunes. I've been using iTunes for over a decade yet I know it loses metadata such as play counts. All my CDs are in storage so I shouldn't be losing plays of late, but despite using exclusively Apple computers, Apple mobile devices, and even springing for iTunes Match, I know many of my listens have gone unrecorded.
Top Albums not Greatest Hits
It didn't really matter as just looking at the tracks I've listened to more than say 15 times revealed a lot. I decided my list would not include any compilations or greatest hits packages just real albums. I own a lot of compilations, soundtracks, and career retrospective CDs. I've listened to them a lot and this used to be the only way to get certain songs, but now you can buy so many individual tracks online, people don't listen to albums anymore. I myself mainly listen mostly to custom playlists I've made on iTunes.
Many years ago, perhaps in 2001 I wrote my personal top 10 albums of all time. That time I not only eliminated compilations but also 'live' albums.
"Live music is better, bumper stickers should be issued."
The list is in no particular order:
J.J. Cale, "Troubadour"
The Who, "Who's Next"
The Grateful Dead, "Workingman's Dead"
The Doors, "Strange Days"
Bob Dylan, "The Freewheelin' Bob Dylan"
Koerner & Murphy, "Running Jumping Standing Still"
The Beatles, "white album"
Black Sabbath, "Paranoid"
The Band, "The Last Waltz"
A Tribe Called Quest, "The Low End Theory"
Beastie Boys, "Ill Communication"
Beastie Boys, "Licensed to Ill"
RUN DMC, "Raising Hell"
Eric B. & Rakim, "Paid in Full"
Curtis Mayfield, "Superfly"
Beastie Boys, "Check your head"
Slick Rick, "The great adventures of Slick Rick"
Public Enemy, "It takes a nation of millions"
Terminator X, "The Valley of the Jeep Beats"
Beastie Boys, "Paul's Boutique"
Canned Heat, "Hooker 'n Heat"
RL Burnside, "A Ass Pocket of Whiskey"
RL Burnside, "Too Bad Jim"
Neil Young, "Tonight's the Night"
Neil Young and Crazy Horse, "Everybody knows this is nowhere"
Neil Young and Crazy Horse, "Live Rust"
Neil Young, "Harvest"
Neil Young, "Harvest Moon"
Buffalo Springfield, "Buffalo Springfield"
Townes Van Zandt, "Rear View Mirror"
Johnny Cash, "American Recordings"
Johnny Cash, "American III: Solitary Man"
The Supersuckers, "Must've Been High"
The Waco Brothers, "Do you think about me?"
Steve Earle, "Train a comin'"
Steve Earle and the Del McCoury Band, "The Mountain"
Emmylou Harris, "Spyboy"
Emmylou Harris, "Wrecking Ball"
Steve Earle, "El Corazon"
Johnny Cash and Willie Nelson, "VH1 Storytellers"
Johnny Cash, "Unchained"
Shaver, "Tramp on your street"
Neil Young, "Old ways"
Tom Petty, "Wildflowers"
Matthew Sweet, "Son of Altered Beast"
Matthew Sweet, "Girlfriend"
Matthew Sweet, "Altered Beast"
Nirvana, "Unplugged in New York"
R.E.M., "Automatic for the people"
Todd Snider, "Songs for the Daily Planet"
Blues Traveler, "Four"
the Watchmen, "McLarenFurnaceRoom"
Blackie & the Rodeo Kings, "High or Hurtin'"
Rheostatics, "Double Live"
Hayden, "everything i long for"
Rheostatics, "Introducing Happiness"
The Odds, "Good Weird Feeling"
Junkhouse, "Birthday Boy"
Rheostatics, "Whale Music"
Turbonegro, "Apocalypse Dudes"
Townes Van Zandt, "Our Mother the Mountain"
Townes Van Zandt, " Live at the old quarter"
Ron Sexsmith, "Blue Boy"
The Who, "Live at Leeds"
Waylon Jennings, "Honky Tonk Heroes"
RL Burnside, "Burnside on Burnside"
Ron Sexsmith, "Whereabouts"
Luther Wright and the Wrongs, "Rebuild the Wall"
Cake, "Fashion Nugget"
Steve Earle & the Dukes, "Shut up and die like an Aviator"
The Supersuckers, "Must've been live"
The Meat Purveyors, "All Relationships are doomed to fail"
J.J. Cale, "Naturally"
MC5, "Kick Out the Jams"
Gillian Welch, "Time (Revelator)"
The Flying Burrito Brothers, "Gilded Palace of Sin"
Old 97's, "Wreck Your Life"
Warren Zevon, "Warren Zevon"
Robert Randolph and the Family Band, "Live at the Wetlands"
Luke Doucet, "Broken (and other rogue states)"
Leonard Cohen, "I'm your man"
The Meat Purveyors, "Pain by Numbers"
The Meat Purveyors, "Sweet in the pants"
Lucinda Williams, "Live at the El Rey Theater"
Lucinda Williams, "Live @ the Fillmore"
Johnny Cash, "At Folsom Prison and San Quentin"
Gram Parsons, "GP"
Gram Parsons, "Grievous Angel"
Howlin' Wolf, "The London Howlin' Wolf Sessions"
The Rolling Stones, "Exile on Main Street"
The Jeff Healey Band, "Cover to Cover"
Tom Waits, "Foreign Affair"
Scott H. Biram, "Dirty Old One Man Band"
Big Sugar, "Hemi-vision"
Blackie & the Rodeo Kings, "BARK"
The Byrds, "Sweetheart of the Rodeo"
Willie Nelson, "Milk Cow Blues"
North Mississippi Allstars, "Electric Blue Watermelon"
Lucinda Williams, "Car wheels on a gravel road"
Bob Log III, "Log Bomb"
My music taste may change again
I reserve the right to alter this list in the near future and in say ten years. In ten years will artists even release albums? Some people like the physical sensation of albums, vinyl continues to sell better and better. My records are also in storage, my problem with vinyl is a side is only 20 or so minutes. I don't like getting up and flipping the record that frequently. I like to put music on and paint or work at my computer. I own a 5 CD changer and my old mini system could play 10 CDs in succession or randomly select songs from them all.
All of these albums are recommended
It goes without saying that I like all these albums and many of them would make good additions to your own music collection. I've spent hard earned money on them as I'm not one for ripping off artists. I still am trying to make an even better online album cover gallery, here is a screenshot of one of my previous efforts which includes some of these albums, but not all. Some album covers are difficult to find using APIs as they may be out of print or not for sale in Amazon or iTunes.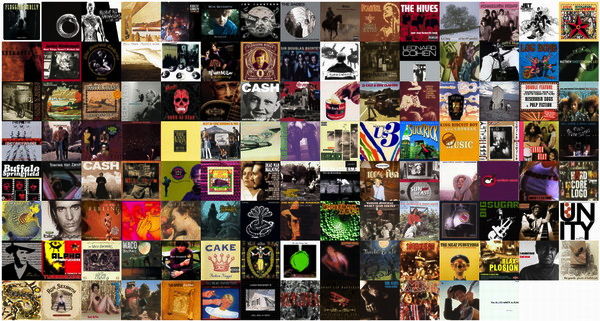 APIs keep Changing
I made many web mashups using Amazon, iTunes, Last.fm, MusicBrainz, even an API by Best Buy now most of them do not work, but you can still see the code and screenshots of when things worked better. Last.fm is changing their API now and my priority is finding a new job not fixing old busted code. I'm not even sure why I'm updating all these old blog posts in 2019.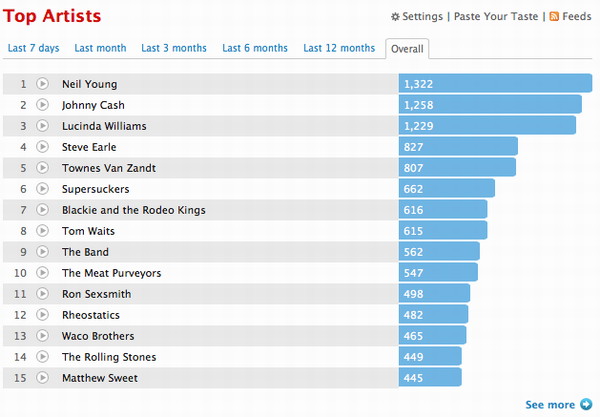 I still use Last.fm
I've been using Last.fm for less time than I've been using iTunes and I definitely don't remember to scrobble all the music I listen to, but I've gotten better. Last.fm's app can be a bit annoying but I wanted to use their API and it integrates pretty well with iTunes. It might even do a better job of counting all my 'plays'.
The problem with all this technology is it doesn't count all the time I spent listening to actual records as a kid. My babysitter gave me her "45" collection similar to "Almost Famous". I also listened to a lot of tapes on a lot of car rides, so what cassettes I own shows what music I listened to before iTunes and Last.fm were even invented, before the CD was invented.
If you have album or API recommendations you can leave them below.
This entry was originaly posted on , it was last edited on and is filed under: The Arts and tagged: Album, Amazon, iTunes, Last.fm, Top 10.