October 30th, 2015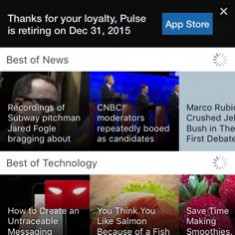 So I live in China behind the Great Firewall which makes it difficult to get the latest news. I of course have a VPN but it doesn't always work, but when it does I use Pulse as my main news source. I used to use Twitter more and I even used to use Summify before Twitter acquired them, but after it's demise I became a Pulse user and then it too was acquired. I can't get confirmation beyond the screenshot I took, but it appears the standalone Pulse app may be retired permanently. This means I need to find another news app preferably one that works without a VPN pronto.
I previously tried Feedly, I even tried Flipboard but stuck with Pulse for several years. It wasn't perfect but Feedly was a major disappointment even after I exported my feeds from NewsFire on my Mac. Flipboard might work better on a tablet but I only have an iPhone. Regardless those two are probably out, so the search for a new News app is on.
I tried Digg when it was relaunched so I think that is also out. I think I'll give Zite a go but Flipboard acquired it, there can be only one news reader apparently. So I guess I'll download Flipboard, have I mentioned how horrible the Internet is in China lately?
I've been using the TSN.ca app a lot because with the exception of the ads and maybe some images it works without a VPN. However all it does is sports, maybe I'll look at apps from other Canadian news agencies. The main LinkedIn app is right out, it became an annoying piece of bloatware and I removed it from my iPhone long ago. I'd get rid of Facebook if I could, but I've actually tamed it somewhat by unfollowing people strategically.
Apps like this along with social media in general show the importance in strategically including images in your blog posts even if you may not have the copyright for that image. I recommend you have copyright for as many images as you can, lest you run into difficulties while blogging.
Update: I'm using Flipboard when I can get my VPN to work, which isn't always so I actually decided to give the China Daily iPhone app a try, it seems to have trouble working when the VPN is on just like other Chinese apps like WeChat.
If you have a News app recommendation, especially one that functions well in China, leave a comment.
This entry was originaly posted on , it was last edited on and is filed under: Information Technology and tagged: Flipboard, Pulse, Summify.