August 30th, 2017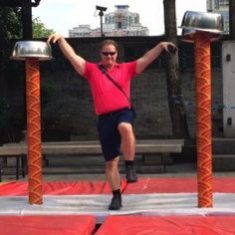 After my epic commitment to study for the CFA Level 2 exam for a fourth time, I was long overdue to take a trip. I had been biding my time in Shanghai waiting for an invitation to go somewhere and do something. Finally I was summoned to faraway Foshan ancestral home to Souther Kung Fu or Wing Chun as some prefer to style it. I didn't actually see any Kung Fu, though I did visit a temple, I did ride too many rollercoasters however in Guangzhou.
I've been to Guangzhou before and I was kinda surprised to learn you can take the metro all the way from the airport to Foshan, yes although Foshan is one of the largest cities in China, the airport is in Guangzhou. It is probably quicker to take a bus or a Didi, the Chinese Uber, but if you want to, you can take the metro all the way to Foshan it is over 30 stations and several transfers.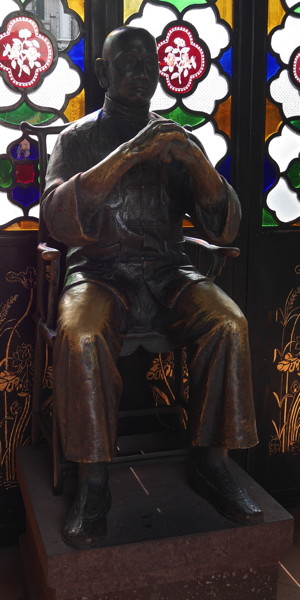 Once arriving in Foshan by metro, you probably need to take a bus or a cab or a Didi but finally I arrived at the newly open Sofitel Spa and Resort in Foshan. I twice ate at their buffet and I also worked out in their gym. It is very nice and right next to a giant furniture expo. I think it is targeting business people and it has a very large space for conventions or weddings.
I did insist on visiting the Ancestral Temple, the number one thing to do in Foshan according to TripAdvisor, but it could have been better. We missed the best part which is supposedly the Lion Dancers even though I knew exactly what time they performed, we just moved too slowly, plus although Didi's are cheaper than taxis you often must wait a while to get one, as we were to find out the next morning when I got up bright and early only to go nowhere for several hours.
The most popular part of the temple may have been the museum dedicate to Wong Fei-hung, a bronze statue of him appears to the right. I never got a selfie with it. I think the temple or the museum could have had a better gift shop for martial arts and movie fans.
Day two was back to Guangzhou where I stayed at Chimelong Hotel which has 5000+ rooms plus actual tigers living in the hotel. It is filled with Chinese kids and their parents. The reasons I was there someone got the bright idea to go to the attached amusement park. I swear I waited in line almost as much at the hotel as at the amusement park. Although I got a package I had to line up in one line to check in, but we were early so another line to check our bags then another line to get our amusement park tickets then another line to buy a fast pass…
The next day I discovered there was a separate line for people who booked by CTrip which I did. The biggest line of all at the hotel is the one to get into the buffet. If you don't like Chinese buffets and the one in Foshan was nicer though I didn't try the most expensive dinner option at either, Chimelong Hotel has other places you can eat with less lines, the White Tiger buffet is very popular, the hotel has real live tigers.
The amusement park was big with many rollercoasters. I started out on the Ten Inversion Rollercoaster which as you may guess puts you upside down ten times, this was formerly a record but somewhere in the world there is a rollercoaster which puts your upside down eleven times.
The next ride I tried to go on, I didn't fit. I never wished to be 1.95 meters tall before in my life, but basically if you are that tall you can't go on most rides. None-the-less I couldn't fit in the seat, my shoulders or chest was deemed too big. I think the lady could have forced down the bar, but I gladly got off. I ended up riding other rides I shouldn't have as I'm afraid of heights. The next rollercoaster is a bike style one similar to Tron at Disneyland Shanghai. It may be bigger and faster than Tron and you probably go upside down. There was a huge new coaster being built which I was glad not to have to ride. After another ride that spun be upside down seven times. I got talked into trying the Drop Tower. I'm not sure how tall it is, but too tall. It warns people who are afraid of heights not to go, but I went. You go up slow so I closed my eyes, but when we got to the top people started talking so I opened them…
I survived but I did not want to go on the Dive Coaster even though it looked the coolest in the pictures and was formerly the tallest coaster in China. I avoided it, riding water rides, a junior coaster, then I went on a giant swing arm, and then another smaller drop tower. That was it I decided I was done going up and down, I wasn't having fun anymore being up so high strapped to a piece of metal hurtling up and down and back and forth. The park closes at dark or around 7pm. So I just watched and filmed people ride what we thought was the last rollercoaster, but there was another one, we never even saw until walking out.
This theme park is huge it has shows too and a circus next door, plus there is a water park and a safari park, four theme parks in total. Now you see why they have a 5000 room hotel.
My next trip I would like to be more relaxing, unfortunately I researched theme parks in China after my adventures. The rides are made by foreign companies and are generally clones of rides elsewhere. One theme park in Shanghai has seven rollercoasters but some guy thinks the scariest rollercoaster in China is in Shenzhen. I'll probably avoid the tallest and scariest rollercoasters in China thank you very much, but I may have to checkout a water park or Hong Kong Disneyland again.
As always I uploaded the best pictures to Flickr, though that is getting harder and harder to do, the Internet or VPN slows or craps out and my data gets lost, it is very frustrating. WeChat and even Instagram are more popular in China. I've included a few photos and I added some rollercoaster videos taken by "a professional". You can leave comments below telling me I should have rode the last coaster, but watching the videos, the Ten Inversion Rollercoaster looks crazier, I rode that, no problems, I had just had enough and didn't want to stare down from that high up, even if it is safe.
This entry was originaly posted on , it was last edited on and is filed under: Asia and tagged: China, Foshan, Guangzhou, Martial Arts, Travel.