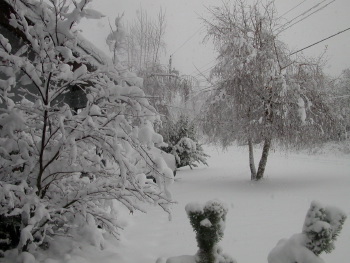 We just got back our power. It had been out since early this morning. This was the second Sunday in a row with no electricity. We've lost power many times this month, once for about 36 hours which really got me down…
Today's storm brought over eight inches of snow to Deep Bay. Usually we don't get much snow right here down on the water, but we definitely got snow today. I went out this morning and took some pictures while the snow was still falling. Several bushes collapsed under the weight of the snow.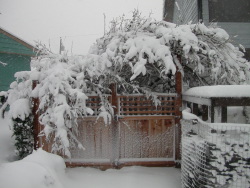 Previous November storms were all wind and rain including the one that took out our power for two days. I eventually walked to Bowser which had power. My grandmother's house in Union Bay always seems to have power. The biggest storm took down several cement power poles which also blocked access to Deep Bay by road.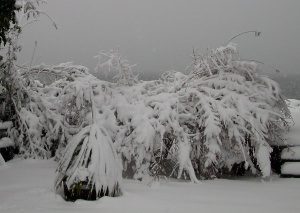 Denman Island was without power for even longer as was Port Alberni. There isn't much to do in Deep Bay at the best of the time, even less when you are alone in the dark. I've played a lot of guitar. I've also spent a lot of time working with Excel when I had battery power on my laptop. I've done a lot of reading especially the last 24 hours after my fingers really started to hurt so I read from Totally Guitar instead.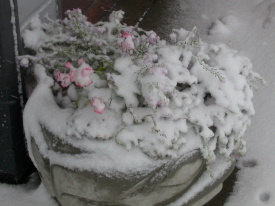 This storm covered the beach right up to the water's edge with snow, but I also took pictures during the biggest windstorm which shows the height the water came up to on our sea wall. I also took many pictures after 'the seaweed storm'. I'm in no hurry to go for a walk in this storm, though I went for walks during and after some of the previous ones. This time I wasn't home alone.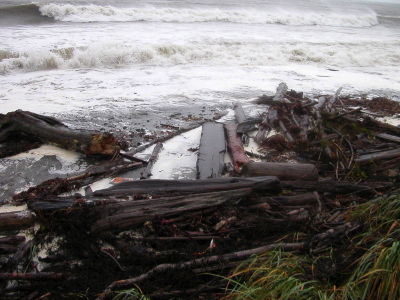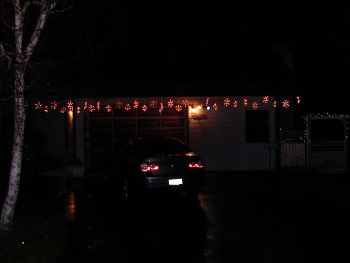 I just went and turned on our Christmas lights. I had only put them up the night before which was clear but cold. It is starting to get windy and our walkway has iced over. My mom is watching the news instead of the football, I don't know how long I'll have power. That is one of the reasons I haven't put up the pictures I took during previous storms. The loss of power, internet access, even telephone service frequently hasn't helped my job search which has been a spectacular failure.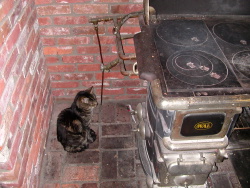 When I was young we lost power a lot too and people in Deep Bay would often come to our house and play cards. We had some kerosene lanterns and a wood stove so we could even cook. Now most people who live in Deep Bay year round seem to have generators. Fred doesn't let the weather bother him, he knows how to stay warm. Sometimes he curls up right under the stove to warm up before returning to the couch.
Here are two of the many pictures I took of the waves crashing in front of my mom's house during the biggest wind storm, which was a couple weeks a go now. One of many storms that have hit Vancouver Island this November.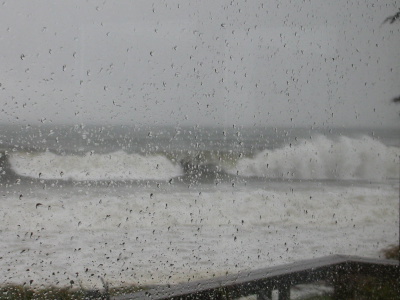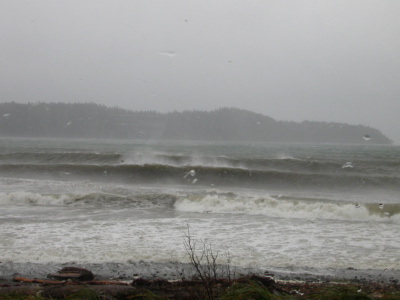 Related posts:
This entry was originaly posted on , it was last edited on and is filed under: BC and tagged: BC Hydro, Christmas, Deep Bay, Denman Island, electricity, Family, Port Alberni, power, rain, snow, storm, Union Bay, Vancouver Island, wind.