March 14th, 2007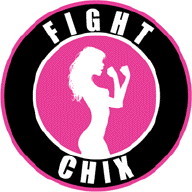 Recently on Veoh I came across a series of videos of women fighting in Japan (but after five years it has been removed). I watched part of one or two but it really doesn't appeal to me. I saw a clip on one of the UFC websites where Dana White was asked if there would be a women's division in the UFC and he said no.
It shouldn't come as a surprise that women study martial arts, there is Olympic women's Judo for instance, but the object of Judo is to throw your opponent to the ground. Jujitsu is the predecessor and 'war' version of Judo, though it has become a sport too now. Flexibility and skill play a large factor in determining the winner, rather than pure strength or aggression, so women can compete well. Women compete in Tae Kwon Do and Karate but they use a point system and in Olympic Tae Kwon Do pads and headgear are worn by men and women alike. I've seen women's Western style boxing on TV and it also doesn't appeal to me, but they wear headgear in amateur bouts and gloves designed to prevent injuries during the Olympics.
Mixed martial arts even when not fought in a cage can be brutal. No pads are worn, things that are illegal in Judo, Jujitsu, Tae Kwon Do, or Karate are legal in MMA, knee strikes, elbow strikes, striking a downed opponent, various choke holds. I personally wouldn't want to try to make a living fighting, especially seeing how I've already managed to injure myself more than enough playing soccer, rugby, football, basketball, and what have you. Why would a woman want to get her face and body pounded on for likely little money?
Of course these fights occurred in Japan, the Japanese have a lot of enthusiasm, some would say obsession for the strangest things. I'm all for fit, attractive, Asian women, I've even blogged about it. But when I read on Sherdog.com the blow by blow results of a recent SmackGirl event in Japan I had mixed feelings. I'm pro-Choice, sometimes the best man for the job is a women, but I don't really enjoy seeing women punching each other in the face. Women's Pro Wrestling which is also popular in Japan is different than MMA, but I see those guys and gals do crazy stuff and they get hurt, they bleed real blood, they break real bones. People aren't faking it in MMA, I'm with Dana White on this one, I don't even like the 'freak show' aspect of it.
There are photos and video footage online, and I provided some links, more than I intended to. I've written or people think I have written about Chinese VS Korean women or Japanese VS Korean woman and when I saw a video entitled that on Veoh I started watching.  I just don't find women trying to hurt each other that appealing. Sure many fights go to decision, or submission, rather than being all blood-filled beatdowns, but to quote Warren Zevon:
The name of the game is be hit and hit back
Or from the same song about Boom Boom Mancini:
Some have the speed and the right combinations,

If you can't take the punches it don't mean a thing.
Links that Still Function after Five Years
Update February 24th 2013
Last night was the first women's MMA match in the UFC, the largest mixed martial arts promotion in the world. The women's title match headlined the PPV card. Time will tell if the event was a financial success but the people in attendance seemed to enjoy the fight between Ronda Rousey and Liz Carmouche. A lot of additional media coverage descended on the two first time UFC main event fighters. And a lot of people complained loudly on the Internet, on Sherdog, even on Twitter that women don't deserve to fight in the UFC let alone headline. The male professional fighters were mostly supportive, others probably prefer the Karate stylings of Hitomi Tanaka.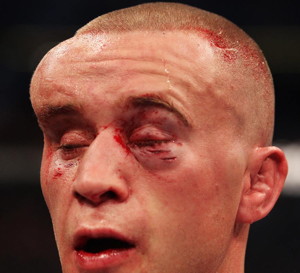 I actually tried to defend Ronda and use logic on Sherdog, that the UFC is a business and if they thought they could make money promoting Ronda's fights then they were going to pursue that opportunity. Ronda's success has also helped out a lot of other female fighters who now might be able to make a living and enjoy some of the same success and fame as their male counterparts. Last night's fight only lasted one round and ended in an armbar submission. I still wonder if fans and UFC's corporate partners are ready for a woman with a Mark Hominick-esque hematoma?
I also wonder why Pinterest keeps changing how their embed code works, sometimes it is just easier to host images yourself even if it probably breaks copyright.
There were some new notably different sponsors in the cage, I saw Head and Shoulders logos and even SalesForce.com on Liz's banner. No blood is going to get on the SalesForce.com logos on Liz's banner, but blood does get on the logos inside the cage/ring and on the fighters themselves fairly often, too often for some sponsors/brands. Though apparently not too often for Reebok. The UFC has now signed almost a dozen 135lb women fighters including several Canadians, but not my personal dark horse to defeat Rhonda, Sheila Bird. Time will tell if this is a blip in the history of sports or if women fighters will become a fixture at UFC events like the male lighter weight classes, which still have vocal Internet detractors. The additional mainstream media coverage is good for a sport that was once called "human cock fighting".  MMA fighters are often not the violent savages their critics would make them out to be, for instance many professional fighters are trying to save amateur wrestling in the Olympics. Dan Henderson is a former Olympic wrestler turned mixed martial arts champion and though he lost by decision last night in a frustrating fight to Lyoto Machida, he wants to see his original sport remain an Olympic event.
Since before 2007 I've continue to follow mixed martial arts closely and perhaps missed out on starting a mixed martial arts news site, just like I missed out on starting a fetish website, and other longshot Internet ideas.  That doesn't stop people from finding my obscure blog posts in Google.
Here are some more posts I made that may interest fans of women in martial arts:
Update March 1st 2013
First the Province newspaper and now apparently the Globe and Mail is writing about women fighting each other professionally in mixed martial arts. It is good to see mainstream Canadian media is only five years behind Muskblog.
Update January 2016
Ronda Rousey rose to fame in the last few years but then she lost her UFC title after she ran into someone who wasn't intimidated and had been fighting professionally, albeit under different rules, for many many years. It remains to be seen whether Ronda can get her title back or whether any other female fighter will ever again be that popular in the mainstream media. I am definitely not the mainstream media which is why I was blogging about women's MMA almost ten years ago and why I stayed up late watching the Rizin New Year's Eve fights in Russian last night. I may even have my first kickboxing lesson in 2016 as I know a kickboxing trainer in Shanghai who I lift weights with sometimes.
Rin Nakai still hasn't gotten a second UFC fight not even on 2015's Japan card which I should have flown to Tokyo to see, I definitely should have also tried harder to get to Seoul to see Seo Ham win her first UFC fight, I kept waiting for them to announce a Macau card but now I may just go visit Macau without there being a UFC event in town, seeing as how I'm back living in Asia.
Update March 2018
I finally got to see a live UFC event in Shanghai of all places. Several women fought, one Chinese woman won and one lost I believe. But MMA and the UFC brand is growing in China and there are a few other female fighters turning pro it even made That's Shanghai.
This entry was originaly posted on , it was last edited on and is filed under: Sporting Life and tagged: Japan, MMA, Rin Nakai, Ronda Rousey, 健美.