June 20th, 2007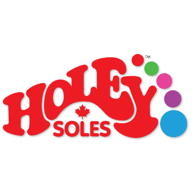 I saw Joyce speak today at the annual general meeting of the Vancouver chapter of ACG. She was a good speaker and her company has grown rapidly despite stiff competition and arguably having no sustainable competitive advantage, recently being named the fastest growing company in 2006 by Profit magazine.
Has a very close and litigateous competitor in Crocs
Vancouver BC based company
Started in 2003
No intellectual property on the shoes
Have a subsidiary in Barbados as a tax strategy
Both Croc's and Holey Soles started in same factory in Quebec
Shoe stores only their fifth biggest vertical
Lawn & Garden is number one vertical
They are selling a lifestyle
Critters collection aimed at kids
Independent sales reps don't have the same commitment as you do to your product
20,000 shoes a day is current production capacity, they sell all the shoes they make
They sell seconds at their own retail outlet
Japan is their biggest international market
Customer experience not quality assurance
Croc's voted 2nd, 1st, and 3rd worst company to deal with by US retailers the last three years
80% of their customers are women
Small companies without three years of formal financials have it tough so you need good relationships with your bank
Planning a private equity round in 2007 selling a minority stake in the company. That money will be used to buy a competitor and attract a good CFO to prepare the company for a possible IPO in 2008.
PE round will be for 10-15 million dollars
Holey Soles has three factories in China
An audience member asked if it was more important to get good press or find independent sales reps first. Joyce says it pays to do your homework and chase after the reps you want.
During my MBA I helped in some small way on the business plan for a shoe and apparel company. UNDRCRWN is a lot different than Holey Soles, totally different target customer, mass market versus niche product, but they are both selling a lifestyle, appealing to people who want to be different, who appreciate quality. My mom, aunts, and grandmother all wear these type of shoes, my layups are still in the box.
This entry was originaly posted on , it was last edited on and is filed under: Entrepreneurship and tagged: Holey Soles, Joyce Groote, UNDRCRWN.