October 15th, 2008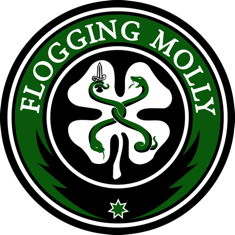 A long time ago I bought a pair of tickets to see Flogging Molly at the Commodore. They were really good the last time I saw them. I didn't catch on that it was a Tuesday night and I didn't know it would be election night.
It was a bit disappointing to go alone. Every time I asked someone they were "Who's Flogging Molly?" or "I can't on a Tuesday." There were a lot of people I could have offered the second ticket to, but I didn't put my thinking cap on or have the time and energy to flog it. I mean I could have used Facebook or something.
I don't think the band was as good as last time, though they are very popular with their fans. Fans drank a lot, bought a lot of swag, and seemed to like every song, lots of singalongs. Dave was in good spirits and had his characteristic delivery with an extra "eh" syllable at the end of most lines. He commented on the election and smell in the air and about the opening bands. He also had choice words for one stage hand who stated "Girls don't belong in a punk band." Lots of people such as Marlene Lau would probably object to this. Now seeing as the girl in question is Dave's wife you can see how it pissed him off.
Flogging Molly is a big band so they play with a lot of volume and it can be hard to hear individual instruments. But the melody is most frequently played on the fiddle. She is the calm at the eye of the storm while all the boys run and jump around screaming and drinking. She is always serene. It is quite the juxtaposition but it works for them.
If you have thoughts on Flogging Molly or female punk rockers like Sheena you can leave a comment below. I've been editing all my old blog posts to try and make them better. I've also been deleting content that doesn't "Spark Joy" though some un-joyful content remains.
This entry was originaly posted on , it was last edited on and is filed under: The Arts and tagged: Concert, Flogging Molly, Music, Vancouver.