March 12th, 2009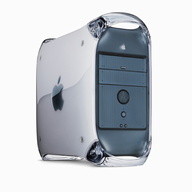 I have an old G4 PowerMac Tower, a 400MHz "Sawtooth" model. One of the many selling features was the CPU was on a daughter card. It has served me and my family well since I bought it. I mainly use it to store and play music now, but when I learned it was too slow to run the latest version of OS X I decided to upgrade.
I bought a Newer Technology upgrade card. Installation wasn't a problem, the problems I had was one, I had it hooked up to a TV via S-Video which their firmware upgrade utility wouldn't work over and two I was using a wireless keyboard and mouse. So in the end I had to buy the cheapest, smallest flat screen monitor I could find at Best Buy before I could install the several hundred dollar upgrade card I had ordered.
I now have 1800 MHz CPU with two fans, it is noticeably louder even when just idling, but it is silent when put to sleep. I ran Xbench but now things are settle down more I'll rerun it. The original hard drive is only 10 Gigabytes, so I had to install Leopard on my second hard drive, move my user account to that hard drive, then erase and install Leopard on the original hard drive, move my user account again. iTunes lost some metadata, that always seems to happen which is why I need my G4. Though considering I upgraded the hard drive in my laptop too not long ago I suppose I could fit my entire collection on my laptop now.
One upswing of the upgrade is the ability to use Time Machine instead of Retrospect, but to get the most out of Time Machine I'll probably get a Time Capsule, that is what Apple wants, and hardware/software interaction is what Apple does best, see the iPod and the iPhone. The faster CPU magically solved my iPod synching issues so everything is good in Musk's Mac land.
But not anytime soon, I need to pay off debt.
Update March 17th 2009
I basically need a bigger boot disk. The original 10 GB one caused upgrade issues and now Apple says it isn't big enough to download System Upgrades. Hard drives are cheap and I think I can put three or four inside my case, so I can even keep the 10 GB for some evil purpose. While googling, I found an article on a very similar upgrade to mine. He has a 7200 RPM hard drive which I always wanted as it makes a fairly big difference when running OS X.
This computer has been in storage while I lived in China. Now I'm back in Canada and once again trying to find a new job. Until I do my life will remain unsettled and most of my belongings will remain in storage including the very first Apple Macintosh I bought. If you have any ideas you can leave them below.
This entry was originaly posted on , it was last edited on and is filed under: Information Technology and tagged: Apple, iTunes, Mac, Newer Technology.