July 17th, 2018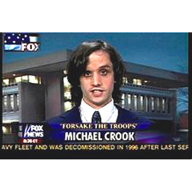 The CFA® exam has come and gone. I will write more on this later, but I took time out of my study schedule to report a whole bunch of intellectual property theft and four months later some of those files are still online despite being assured by Scribd that my files would be removed from their website. Now I must devote even more of my time to reporting the theft of my intellectual property that I gave away for free for the benefit of CFA candidates.
I assure you my generosity will not be repeated, you would have thought I'd learn my lesson after my MBA, but I guess when I first became a CFA candidate I still had some hope. Now many, many, years later my patience with the disreputable, the dishonest, and the downright dastardly is exhausted. If you steal my intellectual property, upload it to another website and assert copyright over it, I will eventually notice and I will not be amused.
Now I intend to make a much bigger fuss after four months of inactivity by a corporation that repeatedly assured me they would take immediate action. Perhaps if they don't want to take the copyright claims of a mere blogger seriously they'll enjoy dealing with the CFA Institute as while reporting the theft and illegal assertion of copyright claim over my Excel files, I noticed a lot of material that looked like it was copyright the CFA Institute. And having received an email over a screenshot containing their logo, I assure you they take copyright much more seriously than the average blogger.
First I must document everything again. Then after I take a bunch of screenshots and file a bunch of DMCA violation reports I will really get serious about drawing attention to the blatant theft of intellectual property that is ongoing at Scribd and Academia.edu and other disreputable websites.

First I will list more URLs of files taken from my website and uploaded to other websites without my permission:
https://www.scribd.com/document/104896671/Cfa-Level-1-Question-Generator
https://www.coursehero.com/file/p5hieli7/Questions-cooked-up-by-Muskie-McKay-from-various-sources-No-guarantee-of-100/
https://www.coursehero.com/file/29325430/cfa-level-i-question-set-120-questionsxls/
http://www.academia.edu/25041663/CFA_Questions_1
http://housedesignarchitecture.com/investopedia/cfa-level-1-tips/
https://edoc.site/download/cfa-level-i-question-generator-pdf-free.html
https://vdocuments.mx/cfa-level-1-sample-questions-and-solutions.html
https://vdocuments.site/documents/cfa-level-i-question-generator.html
https://vdocuments.site/cfa-level-1-question-generator.html
https://vdocuments.site/cfa-level-i-question-set-120-questions.html
https://documents.mx/documents/cfa-level-1-question-generator.html
https://www.scribd.com/document/256214660/Cfa-Level-i-Question-Set-120-Questions
https://vdocuments.site/documents/muskies-question-set.html
https://vdocuments.site/venture-capital-calculations-5790c6bc58d02.html
https://dokumen.tips/documents/venture-capital-calculations-5790c6bc58d02.html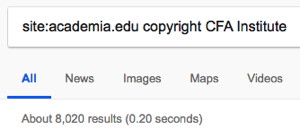 I was quickly able to find these by searching for "Muskie McKay CFA". Worse some of these files are on Scribd even after they assured me my intellectual property would be taken down and prevented from being uploaded again. Academia.edu assured me of the same thing. A new culprit has emerged Coursehero.com, I'm not even going to bother with that website, instead I'm going to document these URLs and see what happens when I complain publicly.
People Who Stole My Intellectual Property
Abhishek Chaudhary at https://www.scribd.com/document/257939257/Muskies-Question-Set
Abhishek Chaudhary at https://www.scribd.com/document/329606701/CFA-Questions-Set
Moeen Risaldar at http://www.academia.edu/34558750/CFA_Questions
Tanim Xubayer at https://www.scribd.com/document/197313276/CFA-Level-1-sample-questions-and-solutions
Tanim Xubayer at https://documents.tips/documents/cfa-level-1-sample-questions-and-solutions.html
Kazi Hasan at https://www.scribd.com/document/293941158/Cfa-Level-i-Question-Generator
Mohd Izwan at https://www.scribd.com/document/206581986/Venture-Capital-Calculations
Mohd Izwan at https://www.scribd.com/document/45889768/ventureCapitalCalculations-2
Jason Bentley of Scribd told me:
pursuant to the DMCA notification that we received on 22 February 2018. Information about the documents was added to Scribd's BookID copyright protection system.
Yet my files remain on this website months later. I have the email saying they were taken down, yet they remain on Scribd. I was assured they would not only be taken down but entered into the BookID copyright protection system. I reported the file, I reported the URL, I even reported the name of the person who stole my intellectual property Kazi Hasan and Scribd sent me some emails, sent me some tweets and ultimately did not take my request seriously as the file remains on their website.

Kazi Hasan may in fact be a CFA charterholder, there is a Kazi Hasan in LinkedIn, he is even on Twitter @Kazikhasan. Best believe I wrote him:
Hey @Kazikhasan is this your Scribd account?https://t.co/KLB7RbYh6R

— Andrew (@MuskieMcKay) July 4, 2018
The Kazi Hasan in question has 167 works published on Scribd, I'm willing to wager Kazi Hasan did not create all 167 works, yet he "published" them and asserted copyright over them on Scribd.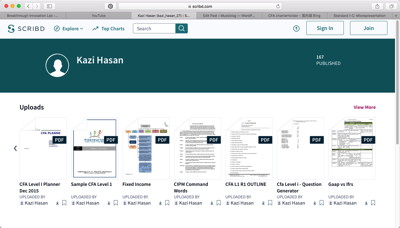 Why isn't this a violation of Standard I-C? He took my work, my intellectual property, uploaded it to another website and asserted copyright over the work. I contacted Scribd and asked to have this exact file taken down in February 2018, yet the file remains, clearly neither Scribd nor Kazi Hasan take intellectual property seriously.
I sent DMCA requests to Scribd and Academia.edu again. I also wrote this post and took yet more screenshots, we'll see if anything happens. I was ignored by Academia.edu and @Kazikhasan on Twitter but Scribd assured me someone would be contacting me shortly.
Hi there Andrew – An agent has reached out to you regarding these additional files. Please reply to their message for further assistance. Thank you!

— Scribd Support (@AskScribd) July 5, 2018
No agent has contacted me and it has been almost two more weeks, time to finally post this. I assure you I have other things I'd rather be doing. Once again I used as a featured image, Micahel Crook the patron saint of DMCA requests. Some people just want to be #Instafamous or just infamous too badly. To quote Doc Holiday "I'll make you famous."
On to CourseHero?
After calling them out on Twitter, submitting more DMCA requests, and writing this blog post, Academia.edu and Scribd once again state they will remove my content from their website. No word on why they can't stop people from uploading the same stolen files over and over. Now I suppose I should look into complaining to CourseHero.
CFA Intellectual Property Controversy
Apparently I'm not the only one who noticed that some people seem to be sharing a lot of copyrighted information related to the CFA program and that this seems a direct violation of CFA's Professional Conduct Program doubly so if you assert publicly online that you are the original creator of these materials. I will have to see how many people they go after and whether they go after Charterholders as well as candidates. I was worried about sharing the materials I made but I know the CFA Institute has looked over this website with a fine tooth comb and my biggest crime was including a screenshot of the CFA Institute's logo. I still worry about the flashcards I made as some of them are direct quotations of copyrighted material which may be fair use or it may not, but those flashcards have been online many years and the biggest problem they've caused me is random CFA Candidates thinking I should drop everything and help them further for free out of the goodness of my heart.
Shout out to Suhail Sheikh aka sheikhofdammam@gmail.com.
I'm just not as fed up as some people I guess, I just blogged, tweeted, and submitted DMCA requests but if anyone wants to use my screenshots of all the individuals who took my Excel files, I'm sure they took other copyrighted materials, I spent too much of my valuable time documenting it. Here is the video made by Mark Meldum who has decided to raise a little hell.
This entry was originaly posted on , it was last edited on and is filed under: Information Technology and tagged: Academia.edu, CFA®, Intellectual Property, Scribd, Social Media.