January 4th, 2006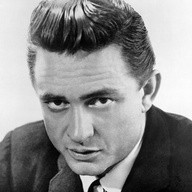 I used a Johnny Cash quotation in my email congradulating all my Sauder MBA Class of 2006 classmates on finishing their MBA. Some people didn't appreciate it perhaps, but I know Johnny would have. Some people don't appreciate it when you point out hypocrisy and inequity especially when it makes them look bad and it is the truth.
Johnny has become trendy again. First with the video for "Hurt" and now with a new biopic. I have a lifetime of Johnny Cash cred. I was a Johnny Cash fan in the 80s when he was at his lowest point in popularity and sacked from Capitol Records. I've always been a Johnny Cash fan and I always will. There is something about honesty, perseverance, and empathy for one's fellow man that gives Johnny's life a timeless admirability.
I once heard someone, maybe it was Bono, say something along the lines that all other men feel inferior when Johnny Cash sings a song. I found the quotation in Google "Every man knows he's a sissy compared to Johnny Cash." Once Johnny Cash sings a song it becomes a Johnny Cash song.
Johnny Cash quotations are showing up in all sorts of places, not just my emails. I actually am removing a lot of my old random and short blog posts as the Quality control is being cranked up and they are no longer relevant and all the links are busted. If you have a favourite Johnny Cash quotation you can leave it below.

This entry was originaly posted on , it was last edited on and is filed under: The Arts and tagged: Biopic, Johnny Cash, Music, Quotations.