August 10th, 2007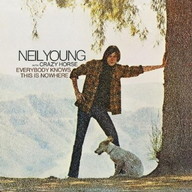 A search for "Neil Young" minus the quotations on DailyMotion.com yielded over five pages of results, about 15,400 results in YouTube, and 126 pages of results in Veoh. I have no doubt that some of these videos have been illegally uploaded to these sites, but what is Neil going to do?
I decided to refine my search by looking for my favourite song "Mr. Soul".
Any girl in the world,
Could've easily known me better.
She said "You're strange,
but don't change."
YouTube returned the best results, so here is the Unplugged version which is my favourite though I have soft spot for the Trans version too. This is a legally uploaded video as it appears his record label put it online. But over a decade later the video is gone so I replaced it with another one. It is much easier to embed videos in WordPress now. YouTube definitely is the video hosting service of choice in most of the world.
If you have thoughts on Neil Young or embedding videos into WordPress posts you can leave a comment below. I'm in the process of editing and improving old blog posts to try and better leverage my blog.
This entry was originaly posted on , it was last edited on and is filed under: The Arts and tagged: DailyMotion, Neil Young, Veoh, Video Clip, YouTube.