September 13th, 2007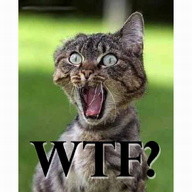 So I'm looking for work, this involves too much time online and jumping through too many hoops. I've written about it too much. But today I came across the dumbest HR person yet, of course they work for the government.
I applied for a job previously with the provincial government. Last week I received an email saying:
Congratulations, you have been short listed for the next stage of the competition, a written exam.

Please e-mail me back by Monday Aug 28/07 with a convenient time next week to write a 2 hour exam.
So I wrote the person back and directly under their email which I quoted I wrote:
I can write the exam most any time you want, depending on where the exam is to be sat. Is there any indication on the nature of the exam?
Imagine my surprise when I got an email this morning quoting the original email and my reply stating:
I am sorry, I didn't receive a response.
I wrote them back again asking where I had to write the exam, they informed me it was an electronic exam and concluded with these words:
As you may see at the bottom of the e-mail, Friday I received a reply with no text, which is why I sent you the note this morning.
So I quoted their original email, I also quoted my original reply putting it right at the top of the email.
It turns out the In-dub-vidual hadn't noticed my reply to their email on their computer screen, even though they had quoted it twice now stating:
I am sorry I missed your response – I have never seen anyone respond underneath the original e-mail before.
They again asked when I wanted to write an exam on IS/IT and I said "How about tomorrow at 10 AM?" It should be noted that it was Monday morning when all this took place. So imagine my surprise when they replied:
Great, 10 AM Wednesday morning it is.
This is the person who wants to test my knowledge of information technology?

I've already written about the dangers of electronic communication. This person was at least polite and reasonable.
I'm held off publishing this, because I needed a job, but I'm definitely sending it to Scott Adams. Apparently by doing that it then becomes the property of United Media, but not exclusively so I'll publish this blog entry too. Hopefully before Scott uses it in a newsletter or book so I'll have prior art.
I want Scott Adams to publish it, I think it is funny, and fits with the Dilbert style of workplace humor. I'm sure this person is just having a bad day, but I'm having a bad life.
Postscript
I did well enough on the test to get interviewed, but I just learned I didn't get the job. So since there is a shortage of lighthearted and funny or at least somewhat lighthearted and funny postings on my blog, I decided to publish it. I seem to get a lot of new referrals due to the untimely death of one of my professors from my time as an MBA student at the Sauder School of Business. Both Paul and Mike would have appreciated this posting, probably Marlene and Gary too if they bothered to read what I write anymore.
I'm once again looking for a job. I'm trying to update and improve old blog posts trying to leverage them in my job search as my career has not gone well since my MBA and no amount of blogging will change that. I did study for and pass all three CFA® exams but even that was not enough to get a job so if you have any advice or amusing tales from you job search you can leave them below.
This entry was originaly posted on , it was last edited on and is filed under: Information Technology and tagged: Email, Job Interview, Job Search, Scott Adams.