April 6th, 2009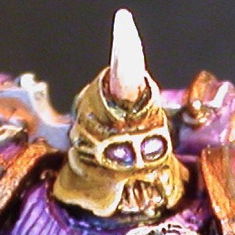 Not enough painting, not very much blogging either. Mainly I've been watching Sci-Fi DVDs and playing my guitar. Now with extra strange slide stylings. At any rate here are six purple Plaguemarines that should have been done last month. They will expand two of the squads in my Diseased Sons army. After these I'm painting something that isn't purple and isn't Nurgle, but I have to paint three more purple fellas so I have one of each heavy weapon.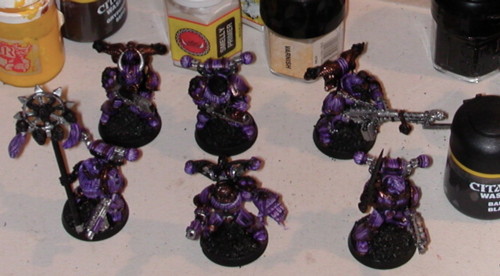 I'm going to Astronomi-con Vancouver, not sure if I'll paint enough to do something new and exciting, I might just bring whatever, we'll see when the army lists have to be submitted by.
Although Malcolm has slowed right down, Jason "Doc" Dyer has made all us Vancouverites look bad with the volume of his painting. More photos of my WIP Chaos army can be seen at the B&C.
I eventually started a miniature painting blog but all my hobbies and side projects have been on hiatus for years while I lived in China and studied for and passed all three CFA® exams. As part of my never ending mission to improve Quality I added a close up of the finish face of one of the plaguemarines. If you have any questions you can leave them below.
This entry was originaly posted on , it was last edited on and is filed under: Gaming and tagged: 40K, Astronomi-con, Miniature Painting, Nurgle.