April 6th, 2009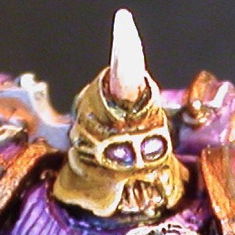 This was a very old fashion blog post. It was short, had a generic title, and a token photo in a low resolution. Now in 2021, I've decided to revise it, even thought the ROI on revising other posts about painting miniatures has so far been zero.
Back in April 2009 I was trying to paint a lot as well as blog my painting progress but I ended up watching watching Sci-Fi DVDs and playing my guitar. But I did paint quite a lot including these six purple Plague Marines. There are several posts and several in-progress photos of them, I should collect them all in one post, but if you just want to skip to the end, closeups of the finished models can be found here.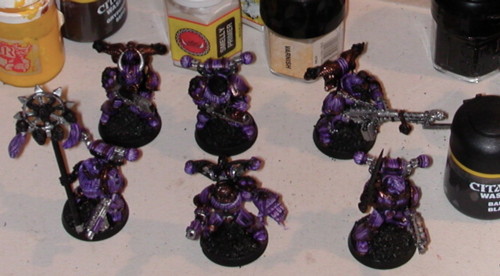 I'm not sure I made it to that Astronomi-con but I did end up starting a dedicated miniature painting blog. Several of us Vancouverites were blogging and painting towards the same goal. Malcolm slowed down but Jason "Doc" Dyer produced a lot of volume. More photos of my WIP Chaos army originally appeared at the B&C. But in 2021, I can't login anymore and I think they deleted the thread.
Since 2009 I have…
Actually started a miniature painting blog but all my hobbies and side projects went on hiatus for years while I lived in China and studied for and passed all three CFA® exams. I've also revised this blog many times in an attempt to improve Quality.
I did go to another Astronomi-con and now that I've moved to Calgary I'll have to look into going to Winnipeg. But I don't have a vehicle and flying during Covid-19 is a risk. So in 2022 I hope to paint more, I'll probably get in a couple games but not attend any tournaments or gaming conventions. If you have big plans for the New Year you can leave them below.
This entry was originaly posted on , it was last edited on and is filed under: Gaming and tagged: 40K, Miniature Painting, Nurgle.