May 11th, 2009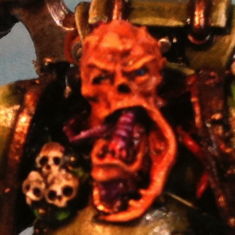 I got a lot of stuff on my desk again, but most of it is just primed black. There are sweet unique conversions if I do say so myself. I even cropped the photo to keep one model out of the picture. I eventually added a closeup of the face of the Plaguemarine Champion in the upper right corner in the picture below.
More in-progress pictures can be found over in my thread at the B&C as well as the odd one in the Astronomi-con Vancouver forums. I don't want to give away all my secrets and tricks yet. But with half a month down I need to paint even more and possibly lower my standards. Hopefully most of my converting work is done and the only characters are in progress. I am not adding any new vehicles so it is just the heavy weapons and special weapons that will get a little extra effort.
Eventually I started a miniature painting blog, but a few posts about my painting remain on Muskblog. You can leave a comment complaining about all the black if you so desire.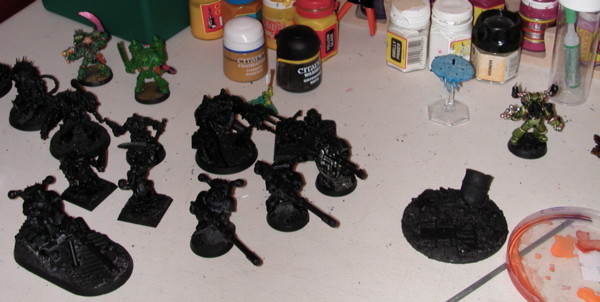 This entry was originaly posted on , it was last edited on and is filed under: Gaming and tagged: 40K, Astronomi-con, Miniature Painting, Nurgle, Warhammer.