November 28th, 2009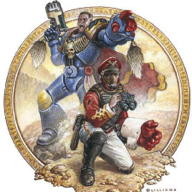 Well maybe not but it has been added in all three iterations to the GW Indy Tournament Schedule, meaning the person who wins not only gets some local braging rights but an invite to the North American championships in Vegas. Adepticon and a few other staples on the North American 40K hobby scene are present plus a bunch I don't recognize including ConQuest Vancouver which must be like the old GW Conflicts… I'll have to ask Owen.
Anyway registration for Astro starts December 1st. I can get newbies in for ten bucks off as I went last year. I'm supposed to be studying and despite this announcement won't be changing my army. I won't be sweating it if I don't get my dream army painted in time. I'm putting the bulk of my effort into a new table. That'll benefit everyone including me for years to come.
I'll get my two goal lists done sometime. I also want to branch out more maybe paint some WFB or Historicals and I think a demo game of Through the Mud and the Blood to go with my modular trench table.
No BoLSCon I noticed, but something called Capital City Carnage. The schedule goes into 2011 with the championship being held in Vegas. As soon as I'm done my exam I gotta get painting. I wonder if the prizes will bring out the cut throat rules lawyers, Astro doesn't have to change it's scoring system, but hopefully no one mars the vibe. Some of the other tournaments like 'Ard Boyz and Gladiator can have the arguing, Jervis never played in either of those… Wonder what the rules will be in the actual final?
I gave entirely too many years of my life to studying for the CFA® exams. I managed to pass them all but it took a long, long, time. Now it is 2021 and I'm updating old blog posts once again. I haven't entered a Warhammer 40,000 tournament in many years and doubt I will in 2022. Covid has not gone away, so I'll likely concentrate on painting miniatures and I'll keep my gaming circle small, maybe just Bill and I, but he wants to play in a campaign with a larger group of players. If you have thoughts on tournaments, gaming conventions and campaigns you can leave them below.
This entry was originaly posted on , it was last edited on and is filed under: Gaming and tagged: 40K, Astronomi-con, Games Workshop.