April 16th, 2010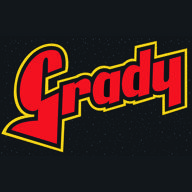 Yesterday I read the Georgia Straight, the local weekly Arts & Culture paper. That combined with walking up Main Street and seeing some fresh gig posters got me pretty excited. Grady plays next Thursday, and Big Sugar is getting back together to play the Whistler music festival, but there was plenty of other news and gigs to look forward to.
I'm still unemployed and I didn't have a terribly productive day, but I didn't spend any money and now I'm watching hockey on TV and blogging. I don't have cable-vision, but during the Olympics I discovered I get at least a half dozen channels using the 'T' antenna that came with my Sony Vega TV years ago. Hockey, well my hockey pool, didn't go so well this year.
Tomorrow is Record Store Day, Fat Possum Records wrote to remind me. I guess I'll hit up Red Cat, they're my local indy record store now that I'm reppin' Mt. Pleasant and East Van. I also gotta work on my business plan and get on my bike, the weather has been really good. Here are some upcoming gigs:
Nice & Smooth
The boys at Fortune are bringing them North. I still put their old Def Jam singles on mixes I make, we'll have to hope this show is more affordable than when they promoted Public Enemy.
Rodney DeCroo, Spoon River, and Paul Pigat
I saw this poster on Main Street yesterday too and pointed it out to Mathieson. This is two of the bands that Wes picked for Kaleidoscope, plus you get to see one of the best guitarists in Vancouver. This is upcoming at the Fairview Pub on Broadway, a venue I've never been too. April 23rd is the date of this show.
Foxy Shazam
Besides a cool blaxsploitation inspired band name, their ambition is to be the hugest band in the world. They gave a good interview, but I think I'm watching hockey tonight, but should be a good show.
Bob Log III
The one man band boom is back. Straight outta Tuscon as I reminded Mathieson yesterday. He's playing the Builtmore and considering all the yammering I did after his last trip to Vancouver I'll be there.
2010 International Blues Challenge Winner
What another Canadian guitarists you've never heard of? Matt Andersen  played last night and I'm sorry I missed it. He sounds right up my alley. I wonder if he ever covers "Built for Comfort"? Definitely going to check him out someday soon. The internet is good for hearing music, but I still enjoy reading the paper version of the Georgia Straight where he was interviewed.
Buddy Guy and Johnny Lang
Lang is also interviewed in this week's Georgia Straight and I'm actually seeing him play, not because I'm a huge Johnny Lang fan. No because Buddy Guy is one of the last great old bluesman, he's also the player Jimi Hendrix stole some licks and showmanship from and called "by far and without a doubt the best guitar player alive." I don't understand the Polka Dot fetish though. Jesse and I are going to this show.
And now for the proof, YouTube style:
Damn does Bob Log III slay! The rest of them are damn fine pickers too. If you have any music recommendations you can leave them below.
This entry was originaly posted on , it was last edited on and is filed under: The Arts and tagged: Bob Log III, Buddy Guy, Guitar, Matt Andersen, Paul Pigat.