May 10th, 2006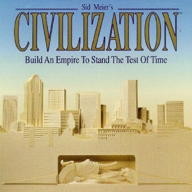 Maybe I should spend more time looking for a job than blogging about Civilization III Complete or maybe I should just shut up until Civilization IV comes out for the Mac. Regardless I still enjoy playing the game and have gotten a pretty good handle on it now, though I still loose more than I win playing on Monarch. CivFanatics though an excellent resource seems to have some inconsistencies and my writings are based on my style of play.
Although I have some general advice, this article is largely based on my research priorities and what I think makes a good civilization in the game. The two are really interconnected. I've already written in praise of religious civilizations but the other two key aspects are starting technology and unique unit.
I've decided after much experimenting that I prefer to make a bee-line for Literature or at least Writing in Ancient times. I don't do this for the Great Library. You can win without that and often it is better to build regular libraries in many cities than try (often in vain) to build the Great Library. It is actually Writing that is the key. It allows you to establish embassies and in addition to Literature lets you research Map Making, Philosophy, and Code of Laws. The last two are needed for The Republic, but making a bee-line for that does not seem to work out as well as you would think.
Unique Unit is subjective, but most of them are good though some are downright devastating or potentially so. Therefor my ideal civilization would start with Alphabet to facilitate getting to Writing faster, be religious and have a good Unique Unit. There are two civilizations that have these three characteristics, India and surprisingly Spain.
I wouldn't go so far as to say these are the best two civilizations though, the second civilization attribute and starting tech count for something. And all Unique Units are not created equally. The number of civilizations that have one of my identified characteristics was a huge number, nineteen. Therefore I used the Meatloaf principal, that two outta three aint bad, to come up with the following table.
The civilizations are in the order they are presented in the game menu, though I shall attempt to pick a few more personal favourites out of the list.
| Civilization | Starts with | Attributes | Unique Unit |
| --- | --- | --- | --- |
| Rome | Alphabet & Warrior Code | Militaristic & Commercial | Legionnaire 3/3/1 |
| Greece | Bronze Working & Alphabet | Scientific & Commercial | Hoplite 1/3/1 |
| Japan | Ceremonial Burial & The Wheel | Religious & Militaristic | Samurai 4/4/2 |
| India | Ceremonial Burial & The Alphabet | Religious & Commercial | War Elephants 4/3/2 |
| Iroquois | Alphabet & Masonry | Agricultural & Commercialistic | Mounted Warrior 3/1/2 |
| Scandinavia | Alphabet & Warrior Code | Militaristic & Seafaring | Berserker 6/2/1 |
| Celts | Pottery & Ceremonial Burial | Agricultural & Religious | Gaelic Swordsman 3/2/2 |
| Carthage | Alphabet & Masonry | Seafaring & Industrious | Numidian Mercenary 2/3/1 |
| Netherlands | Pottery & The Alphabet | Seafaring & Agricultural | Swiss Mercenary 1/4/1 |
| Byzantine | Bronze Working & Alphabet | Seafaring & Scientific | Dromon 2/1/3 |
| Babylon | Bronze Working & Ceremonial Burial | Scientific & Religious | Bowman 2/2/1 |
| England | Alphabet & Pottery | Seafaring & Commerical | Man-o-War 4/2/5 |
| Spain | Alphabet & Commerical Burial | Seafaring & Religious | Conquistodors 3/2/2 |
| Arabia | Pottery & Commercial Burial | Expansionistic & Religious | Ansar Warriors 4/2/3 |
| Hittites | Alphabet & Pottery | Expansionistic & Commercial | 3-man Chariot 2/2/2 |
| Portugal | Pottery & Alphabet | Expansionistic & Seafaring | Carracks 2/2/4 |
Before I pick out a few Civs from this table that I think should be the best for me, I have to summerize my thoughts on Civilization attributes. I think Religious is the best, better than Scientific. In Alpha Centauri science is king and I was so used to that it clouded my thinking for many games of Civilization III. Agricultural, Seafaring, and Industrious all help you grow faster which is good. Commercial at first glance seems another step down because unlike in Alpha Centauri where the pursuit of money could potentially be a path to victory, though I never pulled it off, money is less obviously powerful in Civ III. But money is versatile, you can use it for so many things, having more money is good. Expansionistic is the worst civilization attribute. I've tried a lot of things but I would rather have any other attribute than Expanzionistic. Due to my disdain for Expansionist I was tempted to chop out all Expansionistic civilizations above, but some have interesting unique units, so they made the initial cut.
Home gamers may have noted I didn't mention Militaristic. That is because I try to win peacefully either through diplomacy, science, culture, trade, or more correctly a combination of all four. That said Militaristic is not a weak attribute, even if you don't plan on being aggressive militarally, just having better troops makes you less obviously a target. So I don't pick Civilizations because they are Militaristic which some may do, but it is definitely a useful attribute, more useful than Expansionistic.
Although I initially thought Scientific and therefore Babylon and Greece was where it was at, my high scores show that just isn't so. And it isn't from lack of effort. Greece used to have the best defensive unit and Babylon's Bowman got better with the addition of bombardments due to one of the expansions so I still like these Civilizations but their in game performance has been lacking.
Byzantine is also scientific and was the first civilization I won with in Civ III Complete. Their unique unit is very unique indeed so they too are a sentimental favourite.
Although I haven't played every single civilization, I've played many, many games of Civilization in it's various incarnations. I will have to try a few of the civilizations in this table anew. Civs who have a truely formidable unique unit include many members of the table: Rome, Japan, Scandinavia, Celts, Carthage, Netherlands.
I didn't include Arabia or the Hittities or the other naval powers of England and Portugal because I've either not tried them or had limited success with them. I also skipped the Iroquois even though my highest score is currently with them. I'm going to have to try some of these civilizations out again starting with all the ones which start with The Alphabet, so I guess that means Rome is the next civilization I try.
After Rome I plan to try to play Greece, Scandinavia, Carthage, Netherlands, Byznatine, India, Spain, Babylon, and the Iroquois again. That is ten more games of Civilization III Complete. That is a lot of time spent clicking and sitting. We'll have to see how long that takes. At least I got my iTunes working well again.
This entry was originaly posted on , it was last edited on and is filed under: Gaming and tagged: Civ III, Sid Meier's Civilization, Video Game Strategy.