May 28th, 2009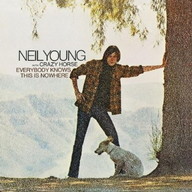 So my cousin from Austria writes me out of the blue, via Facebook asking me to tell him which ten Canadian albums he should have in his collection. He like me is a big music fan so we often swap recommendations. I swear I made him some mix CDs… I haven't seen him in a while, just his wife when she came back to visit relatives.
So I immediately started with Neil Young. I also quickly decided I wasn't going to rank them and I was going to limit myself to one album per artist, live and double albums are of course OK. Here is my list:
Neil Young & Crazy Horse "Everyone Knows this is Nowhere"
Leonard Cohen "I'm your man"
The Rheostatics "Double Live"
Ron Sexsmith "Blue Boy"
Luke Doucet "Broken (and other rogue states)"
Hayden "Everything I long for"
Blackie and the Rodeo Kings "High or Hurtin"
The Band "Last Waltz"
The Odds "Good Weird Feeling"
A tribute to Hard Core Logo
After Neil I added Leonard Cohen, after him I went with The Rheostatics then Ron Sexsmith picking the album I listened to the most from each. Then I kept picking albums I listened to frequently, then I started browsing my list of CDs adding The Band, The Odds, and for my last choice a compilation. I don't know if it is that great, or just such a cool idea which involved bands from the Canadian Rock Renaissance.
There were still omissions. I don't have the first Guess Who album and the first Barenaked Ladies album I only have on tape. The Hip, Junkhouse, and The Watchman were also barely left out, as I guess was Sloan, I always liked their singles more than their albums, but they are talented and still going.
You might see some overlap with the concerts I've attended or my dream band lineup, even my t-shirt collection.
Now a decade has passed and lists of great Canadian albums have been updated by other people. I have not been buying many albums. I've been living in China and buying my music on iTunes. Sometimes I buy an album but often I buy a song or a compilation. If you have any Canadian album recommendations you can leave them below in a comment.
This entry was originaly posted on , it was last edited on and is filed under: The Arts and tagged: Album, Canadian, Music, Top 10.