July 10th, 2009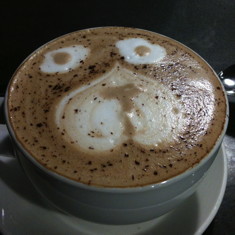 I'm sitting in the Waves on Main, not the Waves on Pender and Main or the Waves on Main and 10th, but the Waves on Main and Cordova right near where I work and where I spend too much time. I don't even particularly like coffee, but I do like chocolate so I eat lots of goodies and have the odd cafe mocha. I also eat lunch here too much as I'm always running late and have no time to make lunch.
It used to be a joke that I and Maureen knew all the cafes but I actually had to do research on Vancouver's cafe scene, particularly in the inner-city for the W2. As part of that I've gone to them all and done market research, I'm also doing lots of secondary, market and industry research. I've ordered books and now I'm going on a coffee tour.
I don't even particularly like coffee. There is no coffee in my apartment. I don't know if I've ever had two cups of coffee in one day, let alone 5 or 6 which I apparently have to do if I want to fully take part in the tour.
Update: I started drinking mochas regularly during my MBA and I also drank a lot while doing the CFA® program. I eventually wrote about the best cafes in Shanghai for the true coffee nerds.
I was just informed after they forgot my order that a new barista made my cafe mocha and I was to check out the art. The best latte art in the DTES is probably at Smart Mouth, but Blenz sent two baristas to Las Vegas Coffee Fest for the competition, another shop or two on Main sent baristas.
If you're gathering that most Vancouverites are pretty crazy about coffee, you'll understand why I'm doing all the research. It used to be every other week we got someone looking to open a cafe asking us for help, now the recession has driven most of them away, but the success of Waves and Smart Mouth has others looking around Woodward's for cafe space.
So now I know too much about clovers, roasting, foam, and baristas, especially considering I have no skin in the game.
Vancouver Coffee Blogs and Sites
They're still filming, Hot Tub Time Machine apparently.
This entry was originaly posted on , it was last edited on and is filed under: Entrepreneurship and tagged: Cafe, Coffee, Vancouver.