December 9th, 2010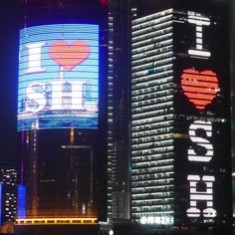 So I've been directing people to some of the photos I posted to this blog back in 2005, most taken while I lived in China. I actually put the best of my China photos in a set on Flickr, after I started to embrace Flickr as a repository of photos online. Flickr was an early advocate of tags and I've noticed search engines seem to be particularly interested in my 'tag pages' created by WordPress. So since my Flickr account is less popular than Kris Krug's and I haven't done a Top 10 list, here you go, ten of the best photos I took while in China which I updated in December 2015 as part of the great blog taxonomy optimization efforts.
Originally I just dug up the little thumbnails I put online in 2005 and 2006 but in 2015 I needed to go full social media integration in order to achieve search engine supremacy.
This photo of haystacks was pure happenstance. I was in Anhui China, literally in the middle of nowhere and we stopped to see some family shrine or ancestral home. I'd have to consult my journal. Regardless these were just off in the distance.
While I was in China I did eat one frog but a picture of the frog I ate isn't that photogenic so I'll go with this picture I took of Shanghai's skyline in 2015 which I entered into some official Flickr photo competition.
While in Beijing I lived in Wu Dao Kou. It is the university district. A lot of foreign students live there as well as some foreign scientists and business people. It has a large Korean population and was thus nicknamed Korea Town. There are a few bars there, but more restaurants and cafes. It isn't a big night time destination. Students with money to burn and many Chinese students don't have ready spending money, probably go to some other district, though there is some KTV places over by Peiking University I seem to recall. Anyway there were gig posters including Korean hip-hop shows which I never got around to attending, but I did go to one female fronted band night at the metal bar. None of the bands were metal, this band was the most famous, and this picture is of their lead singer. I shot it in color but then converted it to BW to make it cooler.
I used my CoolPix 2500 and a slow exposure and a very still hand to take some trippy pictures while on the tourist train in Shanghai. This is perhaps the best of them.
One of the highlights of my trip to China and probably the most picturesque spot we went to in Shanghai, was a Chinese garden called Yu Yuan. Some people who saw these photos though they were of Dr. Sun Yat Sen garden in Vancouver.
In China they have big drums. They also have big bells.
A lot of my classmates liked the next photo. They used it in their blog. It is from our trip to Xi'an. It was the Bell or possibly the Drum Tower, I can't remember now. I used a slow exposure at night to get the glowing effect.
The next photo is one of the most famous I ever posted to the Internet, it eventually became quite popular on Pinterest. It is taken inside the Forbidden City and is known as the Nine Dragon Wall. It is very tough to photograph as it is very long and the Forbidden City is almost always crammed. The best time to go is first thing in the morning. Being me I took the photo from both ends, rather from in front.
How about another photo from Yu Yuan, I'm proud this one came out swell. To quote Bruce Lee:
Concentrate on the finger and you'll miss all the heavenly glory.
A couple of times I missed out or turned down offers to go see the Great Wall at Badaling just outside of Beijing. However even I'm not stupid enough to live in China without getting off my ass and going to see the country's most famous landmark. I took a tourist bus by myself, well the bus was mostly full, but I didn't know anyone. I don't think I was the only white person on the bus, but I didn't follow the crowd. Everyone mostly went right while I went left. I also walked as fast as I could forward for about 45 minutes to get ahead of the crowds. Then I took a lot of my photos on the way back.
And because it is "the end of a new year and the beginning of a new era" to quote the MC5 here is one more of my best photos from living, working, studying and traveling in China. It was taken in the Humble Administrator's Garden in Suzhou.
Feel free to leave a comment telling me everything I've done wrong or which is your favourite. I eventually ended up living in China again and took a bunch more pictures, the best of which are still on Flickr but the best blog posts about China I collected into their own Top 10 List as part of my latest effort to improve this WordPress blog and leverage it in my job search.
This entry was originaly posted on , it was last edited on and is filed under: Asia and tagged: China, Photos, Top 10.