July 14th, 2016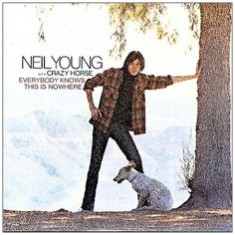 I used to listen to a lot of music. Before there was iTunes or Last.fm or even CDs I used to listen to cassette tapes, the radio, even actual records. My life has been unsettled to say the least for the last ten years. I still own hundreds of CDs but more and more I use my laptop and my iPhone to listen to music. My physical music collection and my stereo equipment is gathering dust in a storage locker in East Vancouver.
Although I've lost play counts and custom playlists due to failing hard drives and Apple's dis-impprovements to iTune's UI, I did notice a milestone approaching. I've also been using Last.fm for over ten years something that I leveraged when making all my mashups. Mostly I try to listen to music I haven't heard so much, I still buy music, though rarely on CD or record now, you just can't lug them around the world easily, even my attempts to rip more of my old CDs failed due to some Apple policy. I also listen frequently to two specific playlists one is a smart playlist I've dubbed "Gym 2.0" as my original smart gym playlist isn't iTunes Match compatible. The other I made to listen to while playing Warhammer 40,000 something I didn't do for many years due to all my models being in storage. Certain songs definitely get played more than others.
This post was originally published July 14th 2016 so I've only been updating it for about six years now. But based on the actions of others this week, I'm really questioning the value of maintaining a webpage under your real name for as long as I have, especially if you are too honest. But I think the worst of the damage has been done and I really care less what anonymous Internet cowards have to say, but I haven't forgotten what some people said or did and I don't care if people keep questioning keeping certain facts online.
This post is about music as I continue to listen to a lot of it now using Apple Music which affects how accurately Last.fm can count things, but it is safe to say any artist listed below I listened to a lot. I also have to fix a bunch of busted YouTube embedded videos.
My Top 5 Artists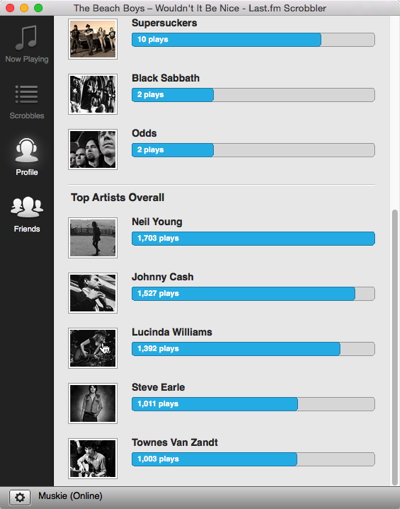 My top 5 most played artists have been the same for years, likely since I started listening to Lucinda Williams heavily, I'm not sure I listen to enough music by new artists or even if there are that many artists capable of writing enough songs that I would want to listen to them one thousand times. This isn't one thousand hyperbolic exaggerated bullshit plays while in a car or a club, this is 1000 plays verified by a third party service. I actually try not to listen to some songs because I save them for an emergency. However up until it closed this week I was regularly going to the gym so songs on two playlists tend to dominate the most played song list, but most played artist, that requires releasing a lot of good music that stands up to repeat listening.
If you haven't gathered by the screenshot to the right, I recommend you listen to some Neil Young, Johnny Cash, Steve Earle, Lucinda Williams and Townes Van Zandt records. More over I'll recommend one album by each:
I also like live music so I also recommend:
If you want to know what I'm listening to lately you also can easily find me on Last.fm. Eventually several more artists made it to 1000 plays, you can read about them below. I also decided to make it more of a multimedia extravaganza by including a YouTube video of each artist I add after the original five.
1000 Plays for the Supersuckers
I'm not sure the exact date, but at some point I passed 1000 plays for the legendary Supersuckers, they even passed Townes Van Zandt to pull into my top five most played artists on Last.fm, this is likely a result of their songs being played more on my Gym 2.0 playlist. They were always in my top 100 album list and long held sixth spot in Last.fm.
I think YouTube is limited which videos I can embed, because several that used to work, now are not. Why would the Supersuckers do this?
1000 Plays for Tom Waits and Blackie and the Rodeo Kings
It was inevitable but I also crossed 2000 plays for Neil Young, that doesn't include Neil Young & Crazy Horse or any other separate band he was in under Last.fm's accounting. I still lose plays and some probably get double counted, but I've continue to Scooble long after everyone has moved on to online music streaming, I remain loyal to buying records or at least digital copies of songs. This Christmas I got some iTunes gift cards and I've used them on some obscure surf rock and other eclectic selections. I've continued to fine tune my smart and not so smart playlists but I still have trouble synching my iPhone with my old MacBook Pro, I need a new laptop and more than that I need a new job.
Now both Blackie and the Rodeo Kings and Tom Waits also have over 1000 plays by me all time. Blackie made one of my favourite albums of all time and Tom Waits wrote one of my all time favourite songs, I even considered Tom Wilson to front my dream band.
1000 Plays for The Meat Purveyors and The Rolling Stones
As I've continued to study for the CFA program and go to the gym and I've continued to use iTunes and Last.fm long after all the cool kids have moved on to Spotify. However my loyalty has its benefits, two more artists have crossed the 1000 play threshold as tracked by Last.fm, so if you haven't already I suggest you listen to The Meat Purveyors and The Rolling Stones.
I think I may have seen the last Meat Purveyor show ever, or at least the last tour, I even took my sister who actually liked them. According to Last.fm over 10% of all world wide Meat Purveyor scobbles are credited to me. As for the Stones I guess you can say I prefer them over the Beatles but honestly I think I own more Who albums or I did at one point.
Last.fm only considers so many years of my life and I still lose scobbles trying to sync everything but the data is still illuminating. I've made some more smart playlists and I even use the Genius mixes sometimes, hopefully this is my last CFA exam and I finally get a new job because I'm tired of my hermetic lifestyle.
1000 Plays for the Rheostatics and Matthew Sweet
I've seen both of them play live many times. I even interviewed the Rheostatics once but it never got published in OffBeat. Both would be in my top albums list and the Rheostatics would be in my top Canadian albums list. They both had their heyday in the 90s when I was a high school student and an university undergrad, but I still listen to music from earlier in my life and songs recorded before I was born so perhaps the next artist to be added to this blog post may have released their first album in the eighties.
1000 Plays for the Beastie Boys
"License to Ill" is definitely the first album I ever bought in a store. I bought the cassette in Duncan BC. I still have that cassette and I also have that album on CD now. I've seen the Beasties play live. I got a t-shirt I bought out of the back of a music magazine. I've definitely listened to them more than 1000 times but officially they have joined this exclusive club.
Another artist is getting close and I am hoping to leverage this blog more having finally passed all three CFA® exams. It also appears Last.fm may have finally changed their API so I need to fix yet more old code. But I just don't have the time or energy to keep on top of my web empire like I used to, it definitely hasn't had a positive ROI.
1000 Plays for Ron Sexsmith
I've seen Ron a number of times both solo and with a band. He frequently plays with Don Kerr long of the Rheostatics. For a while Ron was on quite a winning streak of albums but his most recent ones don't seem to match his best work. He has a somewhat secret YouTube channel where he not only plays all his own songs but regularly does covers of songwriters he admires.
1000 Plays for Murder by Death
If I had to say my favourite band at the moment, I'd say MBD. I got into them through Bloodshot Records, which still hasn't sent me the last albums I ordered after they said they were going to honour orders that came in on Facebook. But Murder by Death kickstarts their albums and I've helped kickstart the last couple so I've gotten a bunch of swag. I wore their shirts and the no one even knew they were a band. Now that COVID is lessened they are touring and I almost flew to the States to finally see them, but they promised they would tour Canada in 2023.
If you have any questions or are wondering what the next artist to cross the 1000 play threshold, I'll give you a hint Mick Jagger called them "The best fookin band in the world".
This entry was originaly posted on , it was last edited on and is filed under: The Arts and tagged: iTunes, Last.fm, Music, Video Clip.