December 27th, 2005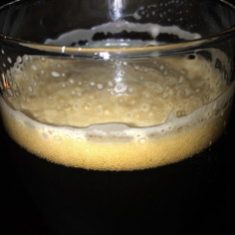 Today I went to Cava for dinner, something I meant to do yesterday. Cava bills itself as a coffee house, but it also has food and a surprisingly vast selection of imported beers. One beer I noticed on the menu was Chimay. Unfortunately it does not go well with spicy Thai food.
Another thing I noticed while jotting down the number for the Korean New Year's Party was that MyShop finally has Beamish Irish Stout in stock again. When I bought the last can, months ago, I told them it was the best beer they stocked and urged them to get more. Unfortunately my Chinese isn't so good but they finally got more in. So after dinner I bought four cans. I also bought some cookies and some granola bars spending 190 RMB earning me a free wine opener.
I thought this was a new record for spending at MyShop but then I recalled I bought an entire mini keg of beer once.
After dinner I practiced the Jazz piece, I still don't play it quite right, but I'm doing better. Now I'm going to catch up on some of the items on my ta do list.
Update: Things have changed a lot in China in the last 13 years. Now it is much easier to buy imported products including beer. There are also a number of craft breweries especially in the bigger cities like Beijing and Shanghai. I eventually lived in China again, forced myself to try many of the local beers and even updated this blog. I finally collected my best China posts together and edited every single old post in the name of search engine optimization and personal branding online.
This entry was originaly posted on , it was last edited on and is filed under: Asia and tagged: Beer, Beijing, China.