February 24th, 2007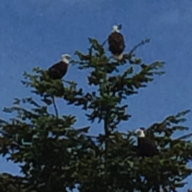 Today while making nachos for Huuna and I, I looked out the window and noticed some eagles on the beach. Not just one or two eagles but five. I got my camera and took some pictures through the window and from the deck, but I couldn't get all five in one frame from the angle I had. So I went outside and I got the shot.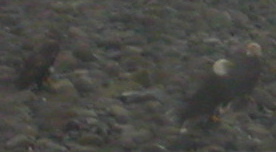 As I sat down to eat the nachos I noticed a sixth eagle fly by. He was further down the beach but next time I looked up there were six eagles around some carcass. I took a picture through the window but when I went on the deck, Huuna barked even though she was kept inside and that startled them. I eventually snuck out the front door and got some blurry photos of all six before they were startled by something else.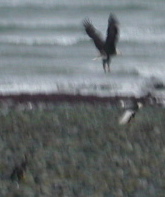 Even later on I looked out and there were even more Eagles. I again took a picture through the rain slicked window. I came up the beach but before I could get them all in frame some took off. As they were flying away I realized there were eight eagles in front of our house.

Two eagles were further out the beach, but you can clearly see six flying away in the final picture. Deep Bay is a popular spot for eagles. There used to be more fish, but there are enough fish and tall trees for them to nest in still, though they continue to cut down trees and put in bigger and bigger houses.

I took Huuna for a walk after posting this. There are still several eagles in the neighborhood. We went out to where the eagles had been on the beach, some other dog had been out there before us. I really need a better camera, but first I need a job.
I eventually got a new camera and some work, but now I'm back in Deep Bay and once again looking for a job online. I'm also updating my blog in an attempt to make it better. If you like photography you'll find many come here to take pictures of birds but there are also a lot of dogs which scare the birds, my sister's dogs like to scare birds.
This entry was originaly posted on , it was last edited on and is filed under: Canada and tagged: Deep Bay, Photography.