June 17th, 2007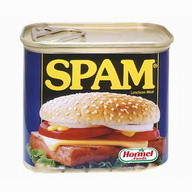 My blog isn't that popular. I don't know how many regular readers I have. I don't advertise. I don't care to be popular. I said what I said, I did what I did and most importantly of all, I know why I did it. Maybe someday some people in my MBA class will realize that, of course it is already too late…
Some people read my website, some people link to my website, people quote me, they find my website in Google, but I'm no threat to the Technorati Top 100.
Every now and then I get a new registered user, they aren't registering to comment or subscribe to a post, they are spammers. They are almost always something@mail.ru addresses. The last person to register was ffs4g@mail.ru since that person registered Spam Karma 2 has sent me almost 300 emails and caught almost 1578 spams all in less than 24 hours.
I just want to send negative vibes to the folks over at mail.ru particularly the owner of ffs4g@mail.ru because my huge increase in blog spam coincides directly with you registering at Muskblog. I hope your inbox gets infested with crap. I also want you to know not one of your spams got through my filters and you're just wasting my time, my webhost's time, and our bandwidth.
This entry was originaly posted on , it was last edited on and is filed under: Information Technology and tagged: Blogging, Plugin, Spam, Spammers.