August 17th, 2008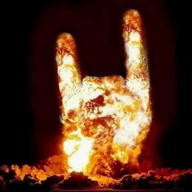 At Pat's Pub, even the guy who makes the pulled pork sandwiches was surprised Bob Log III is playing their East Hastings street bar.
Bob Log III played the Pic a few years back and got the greatest review in the Georgia Straight or someplace. I regretted not going, so I coughed up the 13 bucks to see not one, but two, one man bands.
One is on Fat Possum Records the other is on Bloodshot Records my two favourite record labels. I've never seen a Bloodshot artist live. I've missed out a couple times so in September I'm heading to Seattle to see the Meat Purveyors who for the record are still broken up, the lead singer sent me an email insisting on that. I wish the Waco's would tour further afield from Chicago.
Now the big question is do I wear my Bloodshot Records t-shirt or my Fat Possum Records t-shirt? I just realized I have two Bloodshot Records t-shirts I guess that is why it is my favourite record label now isn't it.
I did have to replace my Fat Possum shirt after it went missing while I was staying with Blair in Sapporo.
Now it is many years later and I have not seen many concerts since I left Vancouver. I lived in China for several years. I managed to pass all three CFA® exams but still have not gotten that career universities and others insisted would be mine if I sacrificed and studied. If you were at this show or saw these two play another time which I eventually did you can leave a comment below.
This entry was originaly posted on , it was last edited on and is filed under: The Arts and tagged: Bob Log III, DTES, Music, Scott H. Biram, Vancouver.