February 20th, 2010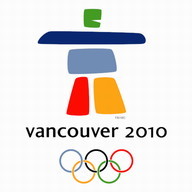 Last night I took it easy and watched Canada win a gold medal in Skeleton on TV. Today I've taken it easy, did a few domestic chores, but decided that wasn't what I wanted to do on such a lovely day. Apparently I'm going to New Westminster to watch men fight in a cage with Dave and Yuri.
I'm kinda blogged out, I did a guest post yesterday of sorts on things to do in the DTES during the Olympics, my second such post. I'm not the only one blogging about visiting Chinatown, Gastown, and the rest of the DTES. I even managed to get interviewed about the Cultural Olympiad event Building Opportunities with Business is hosting and the pin we made to give to our supporters, partners, and volunteers.
Oh I did see the Neil Young Project and it was probably worth it (80 bucks), I'll try to assemble some recollection of who sang what with the help of the Internet. In the mean time Thrasher's Wheat is the place to go, I left some comments there myself.
There is plenty of live music to still see in Vancouver, in addition to all the art installations, I mean da Vinci at the Vancouver Art Gallery, Alexisonfire's free concert will be rescheduled but here is some more free music to see, which remains my most popular Olympic post. There are some excellent buskers in town, try Granville Island that usually has the best buskers in Vancouver, though Granville & Robson would be another good bet to take them in.
We're also drinking all the German's beer, they keep having to fly more in…
This entry was originaly posted on , it was last edited on and is filed under: The Good, The Bad, & The Ugly and tagged: Beer, DTES, Neil Young, Olympics, Vancouver 2010.