August 9th, 2013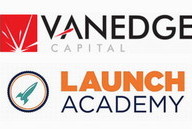 Today I attended another Lunch n' Learn event at the Launch Academy. Today's presenter was Amy Rae of Vanedge Capital, a VC fund in Vancouver focussed on digital media. The format was Q&A and I took quite a few notes. They are presented below, all factual inaccuracies are my own.
Questions from the audience are in italics.
Lots more seats laid out than usual, older crowd too.
Amy used the term "mandate" not investment philosophy.
Vanedge is a 137 million dollar fund and a Series A investor.
Nice to have $500,000 to a million dollars in revenue, prior to Series A.
VCs provide funds for scaling.
How many months of trailing revenue are you looking for?
Vanedge has done seed deals in the past, but not their mandate.
It is all about repeatability, want to see 'actuals' not proforma financials.
Series A is risky but less risky than Seed investing.
3 Focuses of fund:

Infrastructure lead by Moe Kermani
Gaming lead by Tony Lam

Hard to monetize gaming
Backing a lot of analytics companies
Looking less at gaming than earlier in the fund's life

Digital Media lead by Amy

Looking a lot at marketing automation
Big Data
Also security which overlaps with Infrastructure

Paul Lee is the managing director, he raised the fund after leaving EA.
In a first fund not a lot of banks and pension funds are LPs, mostly high net worth individuals.
The best thing Vanedge can offer is introductions. 2nd Best Thing is operational experience.
Vanedge is perhaps a little more hands on than other Venture Capital companies.
Mentions Grow Conference is coming up next week.
When should you approach a VC is a common question?

Will always take coffee even if a company is at too early of a stage for the fund to consider investing.

When giving the pitch, we (Vanedge) need to understand at the simplest level, the simplest terms. Those that have the best understanding can explain their idea in the simplest terms.
When pitching, if questions throw you off, you don't know your pitch well enough.
Third when pitching, the VCs are really there to meet the people, want to invest in people which they want to work with and that they can trust.
How you deal with assholes is important.
VCs talk to everybody, it is there job, they have a mandate, the 137 million has to be invested somewhere. 50% of fund is already allocated.
2-5 million per investment is the Vanedge sweet spot. Also need to reserve money for follow on investments, to prevent dilution in later rounds.
Does the length of the Boot Strap period matter?

Amy likes entrepreneurs who are conservative in managing their money. Sees a boot strapped company as a positive.
Yellow flag for Amy is when a fund company has $500,000 left in the bank, as $500,000 can go out the door quickly.

Can you name any LPs? What about LP's geographic location?

Amy advised to look for a VC fund investor that is early in the fund's life so you don't have extra pressure to exit.
A lot of Chinese influence at Vanedge.  LPs with a background in Real Estate and Steel, some in Media and Medical.

One guy keeps asking the hard questions, I approached him later and found out his company is called planetECG.
VendAsta out of Saskatoon was a frequently mentioned portfolio company.  An LP in Vanedge is a CEO of restaurant chain, so VendAsta's product was given a trial by the restaurant chain.  This was an example of how Limited Partners can be leveraged by the fund.
Vanedge has also used existing portfolio companies to test a potential new investment's technology.
Amy doesn't have a heavy tech background, Moe does.
Vanedge always gets an outsider to do technical due diligence.
What kind of metrics does Vanedge want to see? 
SASS?

Recurring revenue and traction.

Lifetime value of a client is another metric Amy looks at. VendAsta is a SASS company, also a white label model company. VendAsta does "reputation intelligence" according to Amy.
What is the recurring monthly revenue of a company that Vanedge invests in?

Number isn't as important, more important is the repeatability of sales.

Need to be in operation for 2-3 years for customer acquisition cost numbers to solidify.
Amy has seen one company in 7 years hit their forecast. They always try to tie compensation to the forecast.
We (the VCs) shouldn't care about your forecast more than you.
When Vanedge start into due diligence they build their own financial models.
Does Vanedge have a preference towards leading a round versus being part of a syndicate?

Vanedge cares about having a board seat.  Vanedge has been the lead investor in most of their investments. Some VCs only invest if they are lead, others will never lead a round. Vanedge is more flexible in this regard than some other venture funds.
VendAsta investment is syndicated with BDC and a Valley VC fund (who's name I didn't hear).

What do you look for as a Series A investor in the previous investors in a company?
What are the common mistakes you have to clean up, prior to closing out an investment round?

A lot of little investors can be problematic.

What is the minimal potential market size Vanedge looks for?

VCs always work back from market size. Vanedge is also a startup. Amy considers how big a company needs to grow in order to generate a positive return for our investors.
Rule of thumb, can this company be valued at 300 million?
Revenue multiple matters, varies by industry/market/niche.
Many investment deals don't make sense to be VC backed due to the high cost of capital.

I asked if Vanedge has an exit preference? 

Never exited to a limited partner yet, as to preferring IPO or private sale?
Strategic exit is probably the best.  
Look for a potential portfolio company that has multiple ways to exits.

Amy has seen companies go out of business only to get a new follow-on investment literally at the last possible moment.
Time period to exit is 3-5 years, pretty standard for the industry.
70 million left to be invested in Vanedge's fund, 6-8 million per company, plus money set aside, currently 9 companies in portfolio, so approximately 10 more investments will be made, how soon do you have to make those 10 new investments?

LPs need to be approached for every investment during the term sheet negotiation phase. Takes about 30 days to do due diligence, 30-60 days from initial engagement to investment close, probably closer to 3 months. Limited Partners have 2 weeks to put their portion of the investment into Vanedge's account.

There has been team turnover at Vanedge, Paul has always been with the fund.
Always want to look for quality companies.
Less urgency now at Vanedge to make investments than when Amy started at fund.

Amy stressed that Venture Capital is expensive capital.
A hypothetical 4 million dollar deal will typically be done in tranches, perhaps 4 one million dollar investments each tied to a milestone.
Not everyone likes milestones and tranches. Vanedge has an 8% cost of capital, so why not leave the money with the LPs?
Very hard for a VC to say "I don't want to fund this company anymore" once they have already invested in a company.
How many companies have you wound down?

Amy is still fairly early in her career and has never wound down any of her companies but at previous positions has watched co-workers wind down companies. [Insert sad panda]
9 active portfolio companies, but Vanedge has had 2 portfolio firms go bankrupt.
The way you invest changes after you have failures on your fund's books.

How would you contrast Vanedge with another VC say one in the Valley?

The Valley will give you a higher valuation. But what matters is how much you return to your LPs. The Valley has it's own rules due to increased average exit price.

Amy advises Don't value your company out of the ability to raise a next round.
What are the biggest oversights and mistakes founders make on Term Sheets?

Not knowing what you need board approval for when running your company.
How the 'vote' is divided, making sure you still have enough ownership percentage.

Amy likes 'simple' in term sheets.
Mentioned Brad Feld's book on being smarter than your Lawyer and Venture Capitalist.
I hope some people find these notes useful. If I made any egregious errors, hopefully someone corrects me in the comments. I've written more on venture capital over the years.
This entry was originaly posted on , it was last edited on and is filed under: Finance and tagged: Amy Rae, Launch Academy, Vancouver, Vanedge Capital, Venture Capital.