August 1st, 2014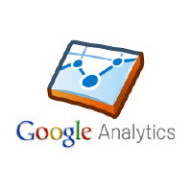 I've finally gotten around to reading "Web Analytics 2.0" by Avinash Kaushik and part way through Chapter 3 I decided to check my Top 10 Landing Pages. Muschamp.ca is basically a vanity website, I'm not selling anything, not even consulting services, I am however looking for a full time job, I even made resume views a Google Analytics Goal. My Top 10 Landing Pages for the month of July contained no real surprises.
Hand Coded Landing Pages?
Three of the pages are hand coded. My homepage should have the most incoming links and it actually does the best job of converting random web surfers into resume viewers. My collection of miniature painting advice is one of my oldest and most successful hand coded webpages. My PHP code which I used to make various web mashups isn't nearly as old, but Stack Overflow sends it a steady stream of visitors thanks to my participation on that forum.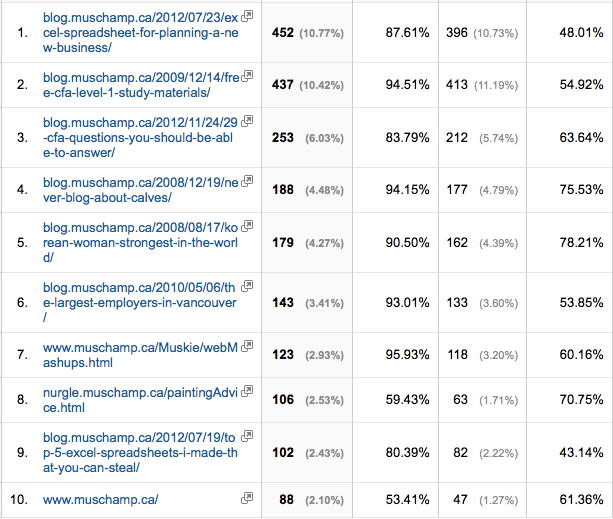 Timeless Content
My most popular page and by extension the most popular download on my website is a spreadsheet to help with planning a new business. Giving away free spreadsheets is a successful strategy to draw people to your website, but funnily enough doesn't earn me any money. People have even taken my spreadsheets and claimed them as their original work.
Cornerstone Content
In 2019, I finally installed Yoast's SEO plugin. You definitely want to use a content management system and the one you probably want to use if you like free is WordPress. Now I must edit every single post I've ever made and try to improve them. One strategy even more exclusive than optimizing landing pages is identifying your most important content and linking to it extensively.
Make your Landing Pages Convert
Avinash advises fine tuning your Top 10 landing pages to lower the bounce rate and increase conversions. (He also makes blogs an exception to the rule of bounce rate being the sexiest KPI.) My homepage is carefully crafted, my painting advice is an ever growing collection of links. I may give away another spreadsheet but 100s of hours goes into building them, it is definitely not a strategy you can use on a daily basis to crank out content in the quest for Klout. I'll try to improve my popular content, but I've put so much effort into this website, I can't say the ROI has been positive.
The only constant is change
Google Analytics and more importantly search engine algorithms keep changing. I've been using the Google Analytics iPhone app but I miss my custom dashboard. The iPhone app eventually added custom dashboards but you can not just use the ones you already made. Despite all my knowledge of web analytics, I couldn't get another job doing that despite several interviews. Supposedly I'm doing better in job interviews now after years of suffering anxiety attacks, but I'm still not doing well enough. I just can't overcome the gaps on my resume and the nasty things people said about me behind my back.
10 Year Blogiversary
I spent considerable time going through Google Analytics in the last few days as September 2015 marks the 10 year blogiversary of Muskblog and the 20 year anniversary of me putting up a homepage on the world wide web. As a result I have an even better idea of what content is timely and what content is timeless. Numbers 3, 4, and 9 on this list didn't quite make it to the top of my latest greatest list of popular content.
Annual Popularity Contest
I did not have much time to blog while a CFA® Candidate but now that I've passed all three exams and decided to make that post one of my pieces of cornerstone content I have been investing too much time into this website. I don't think all my effort will ever payoff, but no one can say I didn't try. My top 10 landing pages and what content is popular doesn't fluctuate much but maybe after I finally finish my latest search engine optimization efforts some of my cornerstone content will become popular.
I never wanted to be popular, I just want a job. I am tired of doing the right thing and not being rewarded. Being honest definitely does not pay off. If you have any thoughts on landing pages, search engine optimization or honesty you can leave a comment below.
This entry was originaly posted on , it was last edited on and is filed under: Marketing and tagged: Analytics, Avinash Kaushik, Google Analytics, SEO, Top 10.