October 11th, 2023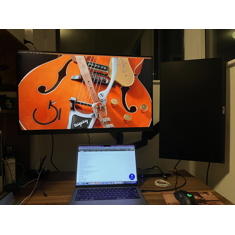 Well Internet, I seem to be slipping. Not only have I not got around to upgrading this WordPress blog, let alone fixing all the busted PHP that I now regret writing, my attempts to upgrade my home office further have resulted in me having either my new LG UltraGear QHD Gaming monitor working or my old TUF Gaming VG249Q Gaming Monitor working. I thought both would work. I thought my new MacBook Pro could drive the new monitor, even my work laptop I thought could handle less than 4K resolution, but it may be my Caldigit USB-C Pro dock which has let me down.
Ironically that was the first device I bought, well I bought the MacBook Air first which my mom still hasn't used since I gifted it to her. As you may recall, COVID hit and I rushed to the local BestBuy and bought the best 24 inch monitor that was in-stock. Later I bought my own condo and a new desk and figured I had enough space for two monitors. Rather than try one big one and one small one or another brand I bought a twin 24 inch ASUS monitor and I kept working through COVID for about two years with that setup.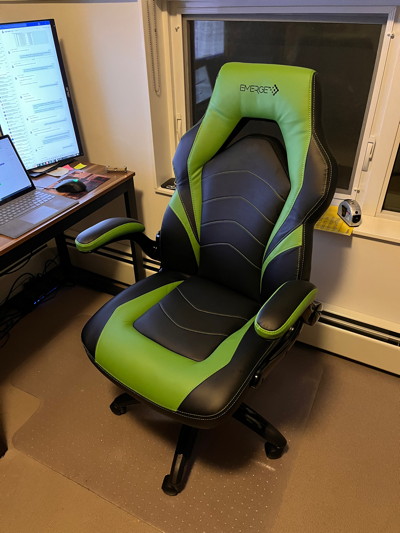 To start this year I decided to upgrade my laptop. It is nice but I don't do any programming, video editing, audio editing, I even stopped playing Sid Meier's Civilization in order to try to work out and paint more. COVID was long, our SCD project was long and it is because of SimCorp Dimension that I decided to get a bigger monitor. I did research, used RTINGS which I highly recommend. I measured the space I had available. I went to BestBuy. I went to Stables I decided to get a 31.5 inch monitor that was in-stock. I also got a new chair and decided I should get the arms to mount the monitors on as I wanted the new big monitor to sit above my laptop.
Staples had chairs and desks on sale so I did get a discount on my new chair. I also got a monitor that was in-stock at the local store, but the mounting arms. I needed one which had a c-clamp that would open to just over 60mm. So that was not in stock at the local store so it arrived a few days later. But my chair and new monitor arrived super quick and of course the shipping was free because Amazon. I put the chair together which was non-trivial but the new monitor sat in the box until the arms arrived.
Apparently the arms arrived early on a Sunday but I never learned this until the next morning, so after work I spent considerable time assembling the arms and got them set up close to optimally. I mounted my old ASUS 24 inch monitor vertically which I had been testing for a while on the stand that came with the monitor, as you can see in the picture of my new chair. I got the new bigger monitor mounted but it wouldn't display a picture. My MacBook Pro seemed to know it was there, at least some of the time.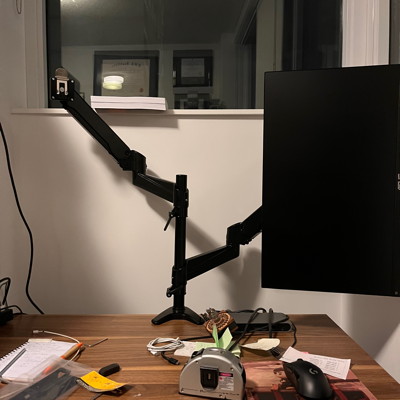 I tried many, many things. I lowered the refresh rate. I lowered the resolution. I tried mirroring. It seems either the built-in display and the ASUS monitor would work or the built-in display and the LG UltraGear monitor would work, but I couldn't get all three. I did write Caldigit and of course I tried Googling. Google really tries hard to send you to YouTube these days, I can see why the anti-monopolists are upset. I notice this whenever I google most anything, maybe I'll switch to making video content of my own someday, but first I need some help and I fear I may need to spend even more money to upgrade my Caldigit dock.
My work computer is supposed to get upgraded, until then I need to continue to support USB C and this is why I avoided 4K monitors, well that and cost. Working from home, I mainly look at text in Excel, in SQL Server or Oracle's developer environment, or in the aforementioned much maligned SimCorp Dimension windows. I will have to try a game of Civ on my new biggest, best monitor ever. But going from dual displays to having a two spare displays is not #winning so I'll tweet this and see if the Internet has any ideas. My blog doesn't do as well as it used to and Google Analytics is another thing I haven't upgraded, but for certain obscure technical terms I still get traffic, but mostly I get spam. Don't leave spam comments, leave helpful comments Internet.
Windows Just Worked
So after trying again this morning and seeing if Caldigit got back to me, I realized I was running late for work, so I tried my work laptop, the not terribly lauded Microsoft Surface Laptop. I actually spent a lot of time on Wikipedia reading specs because my MacBook Pro should be so much better, so I need a dock which does USB-C because of my work laptop. I also avoided 4K partially for that reason. But my work laptop worked the very first time. It doesn't seem to do the resolution the LG Ultragear wants which is 2560×1440. There seems to be some confusion on Windows which resolution my new monitor is running at, LG thinks it is 1920×1080. So after a long trying day at work and still no email from Caldigit though they did acknowledge me on social media, I tried again to get my new home office to work completely with my oh so pro, MacBook Pro.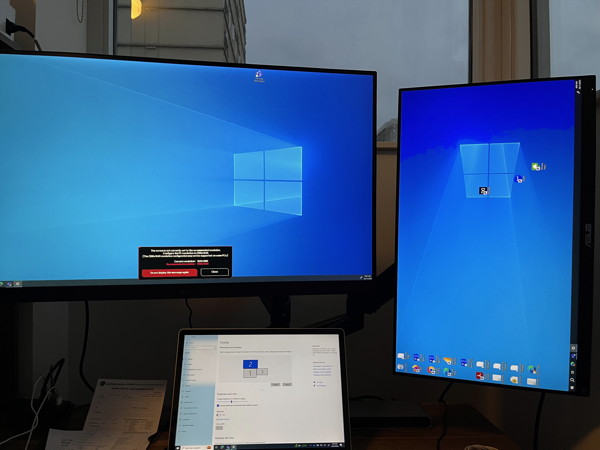 My work laptop has an Intel(R) Core(TM) i7-1065G7 CPU running at 1.30GHz and 16 GB of RAM. I think it is the 15 inch model of the third generation. Supposedly it is going to get upgraded and the new one will support 4K monitors and likely Thunderbolt too. But alas I got impatient waiting and upgraded my monitor first.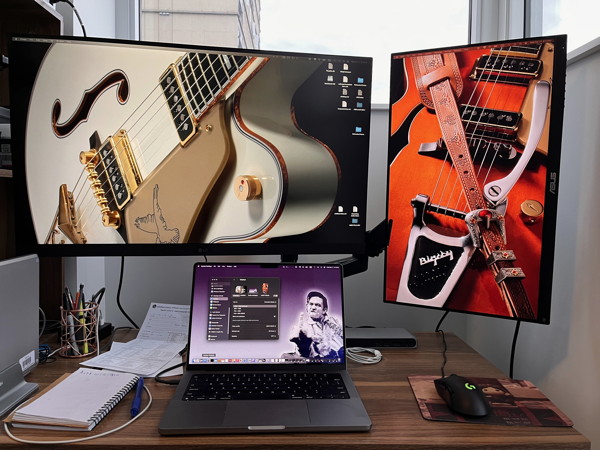 Final Victory
One of the things I learned yesterday is my new monitor will work with my MacBook Pro and Caldigit dock, just not running at 144Hz refresh rate. So in the brief instances it was showing up in Displays settings pane I adjusted it. Finally I got all three monitors to work, so I could properly arrange them and I learned the Ultragear can be run at 120Hz while the ASUS can be run at 144Hz still, not that I necessarily need that fast of a refresh rate to edit photos for the blogosphere. I'm willing to make the ultimate sacrifice and fire up Steam for the first time in months to try a game on of my fancy gaming monitors.
If I was truly hardcore I could unplug a monitor and try to run the new LG Ultragear with the most advanced settings possible. One thing the new bigger monitor and repositioning of my monitors has done is I use the built-in screen more. It is really nice on my MacBook Pro and if I'm doing email or even typing in WordPress I kinda like using it. But for games or certain other tasks I guess I'll use one of my external monitors, I just hope my work laptop eventually gets upgraded so I can take more advantage of my dock and my biggest best monitor ever which can run at 2560×1440 pixels and who needs 24 more Hz anyway?
This is actually only my second blog post of the year, on this blog. I've been painting and blogging over on Musk's Miniatures posting only the other day. Thanks for reading this and hopefully I my updated post with pictures gives someone hope, eventually I may get a new dock, but definitely not this year.
This entry was originaly posted on , it was last edited on and is filed under: Information Technology and tagged: ASUS, Caldigit, LG, MacBook Pro.