February 24th, 2012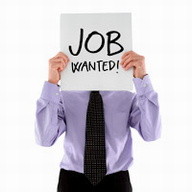 I've been unemployed for too long. There are obviously reasons for this, but if I had all the answers, I wouldn't be unemployed now would I? I try to shore up my weaknesses and leverage my strengths. I spend a lot of time online reading 'expert' advice on what to do and what not to do when looking for a job, or writing a cover letter, or during an interview.
Update January 2019: Once again experts are advocating the one page resume, I however am old so apparently if you have 20 years of work experience you can have a second page. I gotta be getting close and I probably would have 20+ years and a fantastic career if it wasn't for my MBA at the Sauder School of Business. I didn't update this six year old blog post because of that, I did it because I want to remove the old one page resume file from my web server. If you want to read fresh arguments from experts why your resume should be one page, go here.
There are definite disadvantages to a one page resume, the biggest two are half as much room to cram in keywords and being forced to leave off potentially valuable skills and experience. The other big challenge facing job seekers, besides intense competition, is maintaining their online reputation and ensuring their Google results are acceptable. If a potential employer wants to find out more about me, the information is only a web search away.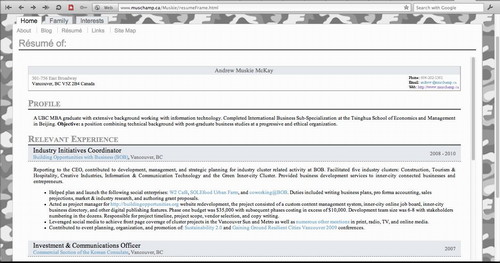 My hobbies, my picture, my age, all of this can be quickly found out even if I leave them off my resume.
The other reason I have resisted making the change is I've put a lot of work into fine tuning my resume to include valuable keywords and the information that hiring managers have remarked upon the most. My resume was working just well enough to get the odd job interview, two last week, which is definitely above average. Creating a one page resume isn't as simple as deleting the entire second page, you have to reword, rewrite, and relocate various information. I also had to reduce the amount of whitespace in my Microsoft Word file.
MS Word is the default format most employers want in a resume, though some ask for a PDF. Even as a longtime Apple fanboy, I've continued to use Microsoft Office. I've also stuck with the .doc file extension. Additionally, I've maintained an HTML version of my resume online for over 15 years. I spent a lot of time converting it to be an hResume. So in addition to having to carefully rework the Microsoft Word version of my resume I had to modify my carefully hand coded HTML. Printed HTML, even with CSS isn't foolproof so it is possible I did not succeed in creating a one page version of the resume hosted on Muschamp.ca, but it is definitely shorter.
My entire employment history, along with all the places I've volunteered, the universities I've attended is in LinkedIn. I have some control over which information is publicly available and I also can restrict which LinkedIn users can see my entire profile, but as a job seeker you have to surrender a lot of privacy online. Once you surrender your privacy online you are unlikely to ever get it back.
I'm not sure the one page resume is right for everyone or appropriate for every single industry and job posting. Maintaining multiple resumes or regularly cutting and pasting content into and out of your resume is problematic. Customizing your resume for every single job application isn't always possible due to limitations imposed by career websites for instance. You definitely can only post one resume on your homepage and you're only supposed to have only one LinkedIn profile.
As I still have reservations concerning the one page resume, I decided to put it out there whether it is a significant improvement or if there are any glaring mistakes in my recently revised resume. Guy Kawasaki and Vivian Giang are adamant that hiring managers don't have time and just don't care to read resumes over one page in length.
Update April 10th 2012
In the month plus I've been using a one page resume it hasn't resulted in a single job interview, all the interviews I've had were a result of my previous two page resume, custom cover letters, and whatever I typed into various job application websites. That said I've been unemployed too long and it definitely works against me. Recent research has shown recruiters only spend six seconds on your resume and what they look at it your current position, the position before that and your education when deciding whether you are a potential fit.
Update December 14th 2014
I spent another six months unemployed and looking for work in Vancouver. One of the things I did was pay to have my resume professionally redone. Ironically everyone I showed my new professionally written resume including a previous boss liked my original resume better. My career has been stuck in neutral for a long, long, time…

Now I have much more modest aspirations. I am just trying to get by. I should probably be studying for the Level 2 CFA® exam, even though it is over six months away, I really am trying hard to pass, but it seems nothing I do works, certainly not blogging my way to a better career.
This entry was originaly posted on , it was last edited on and is filed under: Marketing and tagged: Job Search, Keywords, LinkedIn, Resume, Self Marketing.